"I love boxing. I love its fans, its challenges and life chances so much. Klitschko vs Joshua 2 is on. I'll see you at ringside."
That was the message Wladmir Klitschko had written out in the drafts section of his phone, one he was seconds away from sending out on social media to the millions of boxing fans eagerly awaiting a rematch of his titanic battle with Anthony Joshua. Only it never came. Instead, the dethroned king of heavyweight boxing opted for another message; one confirming his retirement from the ring.
That afternoon on 2 August, he had both those announcements written up and ready to go, waiting until the very last second before making the biggest call of his career.
The decision came after almost a 100 days of contemplation, many of those accompanied by sleepless nights. The incentive to carry on was huge; the rematch with Joshua would promise all the prestige and financial rewards a Las Vegas super-fight brings – not to mention the opportunity to become a three-time world champion.
Taking the fight would have been the expected outcome, "the easiest decision I could have made," Klitschko said. Speaking to IBTimes UK in an exclusive interview, the 41-year-old explained he was not adverse to taking the easier option and carrying on, for better or for worse. But in taking the route that leads him out of boxing, he has found a sense of fulfilment that quickly extinguished any lingering doubts over his decision.
"It was the most difficult decision," Klitschko explained after showing us the would-be announcement he still has saved for Klitschko vs Joshua II that the world never saw. "But I am so happy. You couldn't know about it before [whether you will be happy with your decision], you know about it later on when your decision is made, a couple of months after whether it was right or wrong. I would say it was right. I did maybe an illogical thing. But I stepped out on my terms. Not any else's. But my terms. I think my stock went up, not down. And I was surprised that was possible."
He makes no secret of the fact that for a long time he was in two minds. "I was hoping that I would recognise the right time to step out of the ring. Sometimes, an athlete's mind would think: 'I have still got it, I know I am better than those young men, I know I am better than him. I still have my chance.' But sometimes you say no to yourself. And it was something my gut feeling was telling me – my gut feeling because my mind was going nuts – it was the the way to do it. Feel it, instead of think of it.
"In boxing there is a rule. Speed kills. Speed kills, period. But what kills speed? Anticipation. You have to anticipate. Anticipation is the feeling you get with life experience. I am 41 years-old, I am not the smartest man on the planet. But I have collected my experience. So that is why it is just a feeling and a decision that I made and that is where I am."
Klitschko's feeling of satisfaction over his exit from boxing largely comes from the stage from where he left it. In Joshua, a man he initially befriended in 2014 while in training for an upcoming title defence against Kubrat Pulev, his final opponent embodied everything the Ukrainian wants to see from the man at the pinnacle of his sport.
"I wish for him to win in any other fight that comes up because the more he wins, the more I shine. Because if I lose, I am going to lose to the best man, I just want to be proud of that. He is carrying the flag accordingly."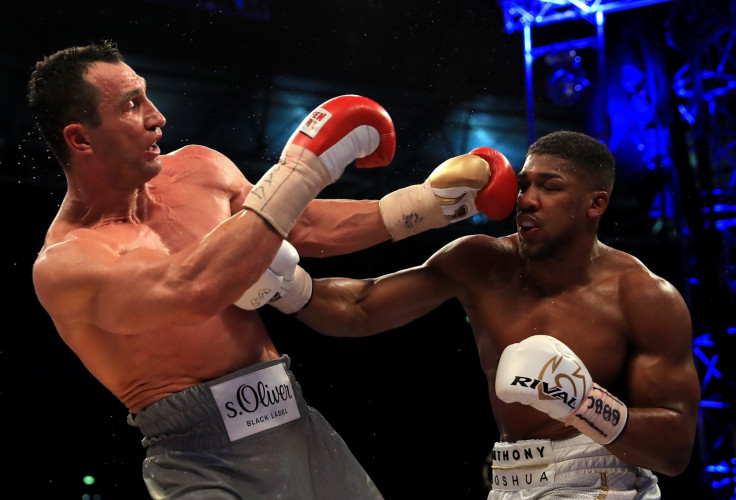 In front of 90,000 at Wembley Stadium, a defining moment in their fight came in the sixth round where for the first time in a meteoric career, Joshua was floored. But Klitschko's peace of mind in how his career ended means he does not waste time thinking what could have been.
"If I were able to rewind time back and have influence over the decision, for example if I knocked him out in the sixth round and won the titles back, it would have been nice for my ego. And my ego is big. It would be nice. But I would never change it. I am where I am right now and I have experienced what I have experienced because I have had a lot of success and just to know this other side where I can win by losing; I would pay any price for it."
Losing to Joshua provided the passing-of-the-torch moment boxing craves more than any other sport. That wasn't quite the case when Klitschko suffered just the fourth defeat of his professional career when he was outpointed by Tyson Fury in Dusseldorf in November 2015. It was a bizarre performance from the reigning champion that night as he suffered a first loss in 20 world title fights. He says it would have been "terrible" had his career ended after that defeat in Germany. "My soul and my heart would not be in peace."
Fury has not fought since that night and while both he and Joshua have begun verbal sparring over a meeting between the two, there remains plenty of stumbling blocks in the way.
Klitschko's retirement came during a period where Fury was, and still isn't, a licensed fighter in the UK. But what if the troubled 29-year-old had still been active at an elite level? Would it have influenced his decision to call it a day?
"It is so in the past, it doesn't really matter. This fight with Joshua made it all great again. Even though I lost. Everybody won. Usually it is just one man who loses and the other wins. But it was very seldom. That is why you stop when it is so nice, so perfect. It is like at the casino. Okay, sometimes you want to put it all on, double it, triple it. But I have been a safe boxer. A safe player. I got it, and it was the right time."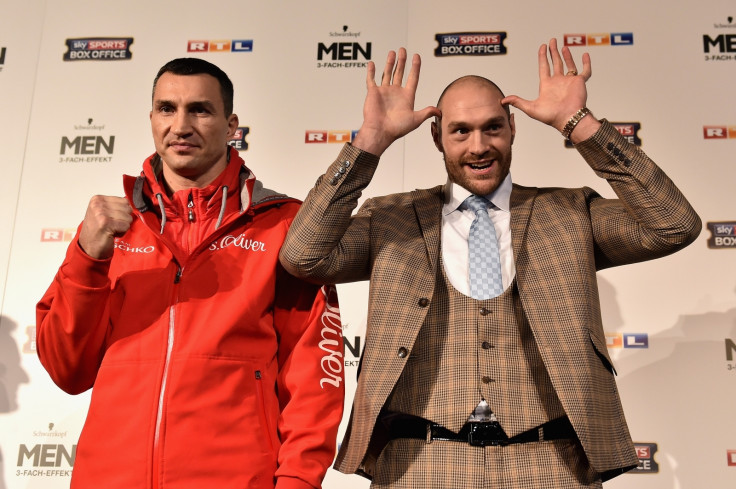 While his career in the ring has finished, Klitschko's new role sees him as the face of the Klitschko enterprise that includes Klitschko Ventures, Klitschko Management Group and the Klitschko Foundation, among others. It's a role that still so often leaves him in front of the media, standing before huge crowds – only longer wearing trunks and gloves. Now, his expertise is in areas like challenge management and intellectual property, rather than sending opponents to the mat.
"To be out of boxing, this does not feel too bad because I am now part of a society and want to share my experiences of 30 years of life in boxing inside the ring and outside, and sharing my expertise with others. So I think now I am definitely in the right spot and am very happy with where I am now. Everything is in harmony, and hopefully it remains the same.
"I was preparing for a long time for another career and I am still paddling on the wave even if I am well prepared, but I just want to make sure everything is fine."
As ever, boxing will continue on after its former stalwarts have headed off into the sunset. He leaves the heavyweight division with Joshua and WBC champion Deontay Wilder on a collision course for unification supremacy, although WBO champion Joseph Parker may have ideas of his own.
Klitschko has one final warning for the last man to ever beat him inside the ring. Never think you are untouchable. "Everybody is barking at you, I have been in that position, there are a lot of challenges. There are a lot of dogs barking, but you just do your thing and keep on going. When it comes, you face it and take it. Because with every challenge, you are getting better."
Laughing off suggestions of a return to the ring, Klitschko knows his career as a fighter is complete. Believing Joshua's truly began that night in May, he is happy for the show to go on without him.
"I think Joshua was born that night. He recouped, he recovered, and he fought back. He was really challenged. That was his birth. There is always a circle of life. I have seen family members passing away and family members being born so I understand there is a circle of life. You have to accept it. You have to support it if is right. That's what I am doing."
Wladimir Klitschko was speaking at Web Summit Lisbon on behalf of Klitschko Ventures