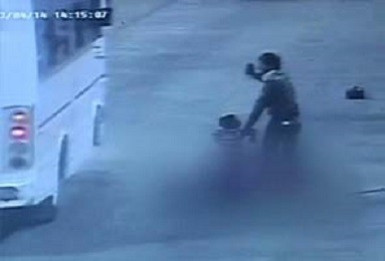 A 26-year-old woman and her eight-month old daughter have died after being fatally hit by a truck and ignored by passing cars on the side of the road.
The family of four were traveling on a two-wheeler through the Ghat Ki Guni tunnel in Jaipur, India. The woman's husband and their four-year-old son also sustained injuries following the accident.
CCTV footage has now revealed that motorists continued to travel past the victims of the collision without stopping to help, despite the cries for assistance from the husband.
Reports suggest the woman and child could have been saved if they had received medical help in time.
The two-wheeler was hit by a speeding truck as it entered the tunnel. Two-wheelers are banned from using the tunnel, but many use them as a shortcut, according to Indian media.
Mamta Sharma, chairperson of India's National Commission for Women (NCW) told ndtv: "There was CCTV in the tunnel...People in the CCTV control room didn't inform the police. There was a delay of one and a half hours.
"If she was given medical attention on time she would have been saved."
This claim was disputed by traffic officer Lata Manoj Kumar, who said the pair had died instantly.
The incident has caused discussion in India on how to deal with road accidents. The country has one of the highest number of serious road accidents per year in the world.
Social activist Pramod Bhasin, who also lost his daughter to a road accident, told IBN live: "Insensitivity, legal hassles and harassment by police is what keeps people from helping accident victims. Sometimes policemen themselves are not educated enough to deal with the situation."
Ranjit Kumar, who works at the tunnel, said public apathy is to blame for the number of motorists who ignored the accident.
Kumar added: "People must be trained to be sensitive. They all have mobile phones. They just have to make one phone call. This is very shameful. I just feel helpless. Social responsibility must be instilled in people at a very young age.
"The CCTV video reflects the society's apathy towards accident victims."