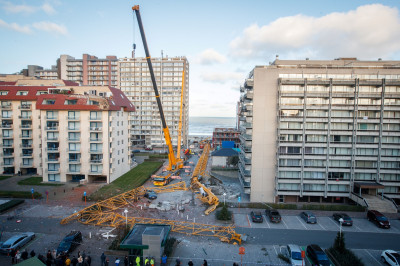 Shocking pictures from Belgium have shown the devastating aftermath of a crane collapsing into an apartment building late on Wednesday (27 December). The immense concrete counterweight blocks used on the crane smashed into the building as it toppled.
Local reports said that a 73-year-old woman living in one of the damaged apartments was killed in the incident. Her husband was also injured and remains in hospital. The crane fell when the small city of Nieuwpoort was hit by a severe storm.
VRT reported workers on the scene on Thursday morning were attempting to clear away the debris, including the counterweight blocks weighing 20,000kg that were lodged in apartments. The three upper levels of the apartment building all saw serious damage.
Nieuwpoort's mayor, Geert Vanden Broucke told the channel that the area looked like "a war zone" and adding that the crane had created "incredible havoc".
Vanden Broucke said that the city had worried last month that the crane was not stable enough but had been assured that it was secure - now, he says, the city will have to wait for an investigation to uncover what really happened.
Around 70 people were displaced by the incident, VRT reported, being evacuated while work started on the damaged building - they have been put up in nearby hotels.
Nieuwpoort is a small coastal city in the northern Flemish region of Belgium. It has a population of around 11,000 people.