Should parents splash the cash and help out their older children? Or should their hard-earned money be spent on them alone? Users on parenting website Mumsnet are debating this exact question – and opinion is split.
User jumpinline sparked the debate after she published a post on Saturday (February 10), claiming that her wealthy parents will not give her a deposit for a new home.
She wrote: "My parents are quite wealthy; they have a large house with no mortgage, fancy holidays a few times a year, spend loads on clothes and meals and cars and socialising. My dad works but mother doesn't."
"Recently they came into a large sum of money and are busy spending it on new furniture, redecorating, cars etc."
"I'm currently trying to sell the house and I'm going to be few thousand short for a deposit on new house. Am I being unreasonable to resent them for this?"
Some users have condemned the poster's entitled attitude, claiming that her parents saved and worked hard and can expect to spend the money on themselves.
User purpedaisies said: "Sorry, but you are unreasonable. It's their money."
"Oh sorry, I didn't realise that you were brought up by a live-in nanny! No wonder you have a sense of distance," another user said.
"It's their money, by the way. If your mum hadn't been there, he may well have been able to earn that cash by himself, but he wouldn't have been able to do it and bring up children and run a family home. You can't have it all, as they say."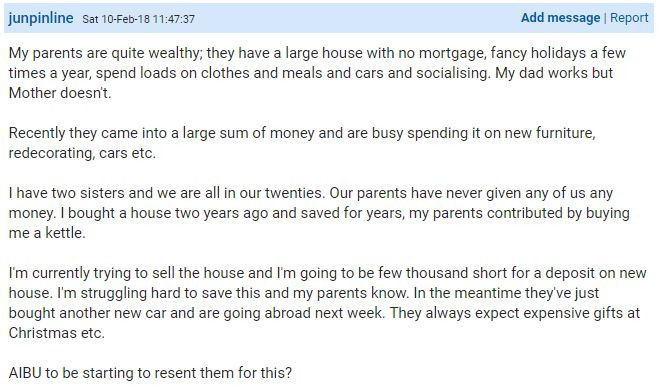 While winteriscoming18 said: "You're an adult they don't need to give you money. You can ask them for a loan but you cannot expect money given to you because they are financially better off than you."
Some have defended the original poster, claiming that she should expect more from her parents.
Busybusybust said: "I find it astonishing that parents don't help their children out when they have the means to do so. I would give my children a deposit in a heartbeat, if I was able to."
One said she should simply ask them for more money upfront without expecting it.
"Did you actually try asking them for help? It sounds like you just expect them to offer it if you whine enough, which is a pretty immature way to look at things."
While another had this bit of advice for the poster:
"My parents loaned me some money to buy a decent car 18 months ago. I pay every month on the dot what was agreed and on more than one occasion at certain times like Xmas and birthdays it's been tight and my dad has told me to skip that month but I never have and never would. Hoping to start paying more off per month in the next few months as well.
"My parents also are very comfortable but they got that way thru sheer hard work and I'm not afraid to do the same. Gives me a big sense of achievement when I've succeeded."
One quarter of all properties sold in the United Kingdom are purchased with parental help,according to Legal and General statistics, with the "bank of mum and dad" lending £6.5bn (€7.3bn) to young homebuyers in 2017.