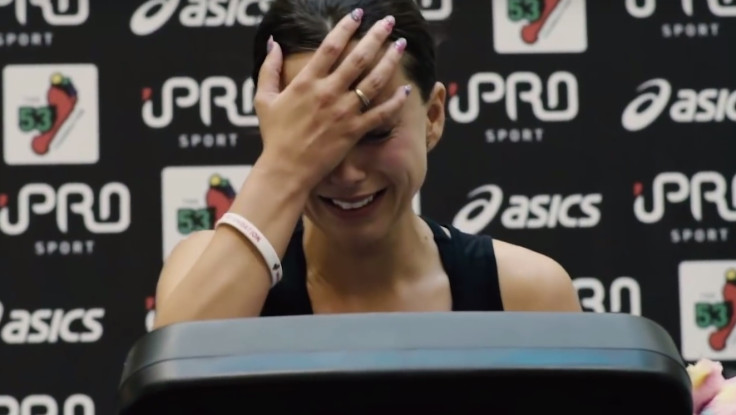 A woman who spent seven days running 521 miles on a treadmill attempting to break the official world record has been told it was an invalid attempt and will not be officially recognised.
Amy Hughes, 29, was hoping to break the official Guinness World Record for the most amount of miles covered on a treadmill in a week.
Hughes, whose previous endurance challenge included running 53 marathons in 53 days, set up the treadmill in front of spectators and cameras at the Trafford Centre in Manchester.
During the week-long challenge, Hughes ate all her meals on the treadmill, slept for around two or three hours a night and only took short breaks during the day to go to the bathroom or receive a quick massage.
The runner eventually managed to clock a distance of 521 miles on the treadmill, beating the previous record by more than three miles.
However, 10 months after completing the challenge, Hughes has found out Guinness World Records has rejected the attempt as her boyfriend was the one who logged the challenge.
According the Guinness world Record rules, all attempts must be seen by an official witness who is "completely independent from the person attempting the record".
Hughes has now described her devastation after receiving the news, believing the fact she had livestreamed the whole thing 24-hours a day on YouTube and supplied additional witness statements from her PR assistant and a physio would be enough for it to be recognised.
She said: "I'm just gutted. I know it's only a piece of paper but I worked so hard for that challenge, I literally broke my body. I felt like I was dying. I just want to get justice, it's just so, so unfair.
"After seven days of ultimate hell, pain and complete exhaustion and then 10 months of waiting, Guinness World Records have declined my world record attempt for running the most amount of miles of a treadmill in a week."
"Those of you that saw me know what I went through to break this record in the most honest and public way. To say I am furious and upset is an understatement."
Hughes is hoping a social media campaign will pressure the Guinness World Records into giving her the achievement. An online petition urging the organisation to give Hughes her "rightful place in the Guinness World Records" has since attracted more than 1,000 signatures.
A Guinness World Record spokesperson said: "To clarify, the attempt has not been deemed invalid due to lack of witnesses, rather the lack of impartiality of the witness who took the recording of the distance she covered.
"It is vital for the integrity of all of our records to ensure the requisite witnesses are completely independent from the person attempting the record."