A woman has revealed she has spent thousands of pounds trying to look like a "walking blow up sex doll".
Plastic surgery-obsessed Katella Dash, 38, was born male but had gender reassignment surgery to change her sex 15 years ago. Since then she claims to have spent nearly $100,000 – around £60,000 – trying to look as artificial as she can.
Katella, from Minneapolis, USA, has had a number of operations including seven breast augmentation operations, buttock implants and operations on her lips, cheeks and chin.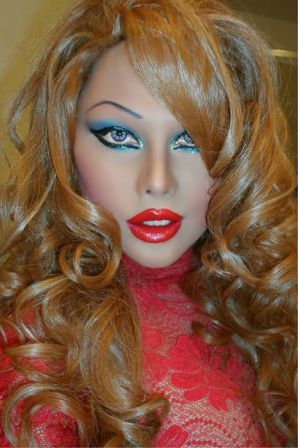 She said: "I had the operation and I've never looked back. Now I want to achieve a hyper-feminine, extreme look. I love to look plastic - most people hate me for my extreme appearance but it fuels me to get more work done.
"I think I do have an obsession with plastic surgery, but being over the top and extreme feels normal to me. The look I am going for is a walking blow up sex doll - it's about as fake a person as you can be."
She now hopes to get her 38H breasts increased to an M. However since her last breast surgery Katella has struggled to find a surgeon willing to take her bigger.
She said: "Right now the only thing stopping me going to a size L or M is that no surgeons in the US are willing to operate on me. I have gone abroad for surgery before so I might have to do it again."
However, her friends fear for her health and have begged her to stop her surgery obsession.
Katella's friends and doctors have warned her further surgeries could put her health at risk. But Katella insisted: "I don't worry about consequences or complications. Even if it puts my health as risk I just want to have bigger breasts."
Watch Katella Dash give it her all on YouTube, below.