Women protesters dressed as Emmeline Pankhurst and warrior queen Boudicca have delivered a 30,000-signature petition to the Old Lady of Threadneedle Street.
Women in fancy dress converged on the Bank of England to demand that a decision to replace the only woman on English banknotes, Elizabeth Fry, with a man, Sir Winston Churchill, be reversed.
The move has sparked threats of legal action against the bank under the 2010 Equality Act.
In their petition, drawn up by The Women's Room action group, the campaigners argue: "This decision perpetuates the damaging myth that women have contributed nothing to history, and adds to the still persistent sense among young women that public life is not for them."
Women's Room co-founder, Caroline Criado-Perez, invited women to post pictures of themselves dressed as historic figures under the Twitter hashtag #womenonbanknotes as a positive celebration of women's achievements.
"This isn't a difficult ask. There is an embarrassment of women to choose from. The difficulty is choosing between them, not in trying to find them," she told the Guardian.
Bank of England governor Mark Carney said he would look at the representation of women on banknotes.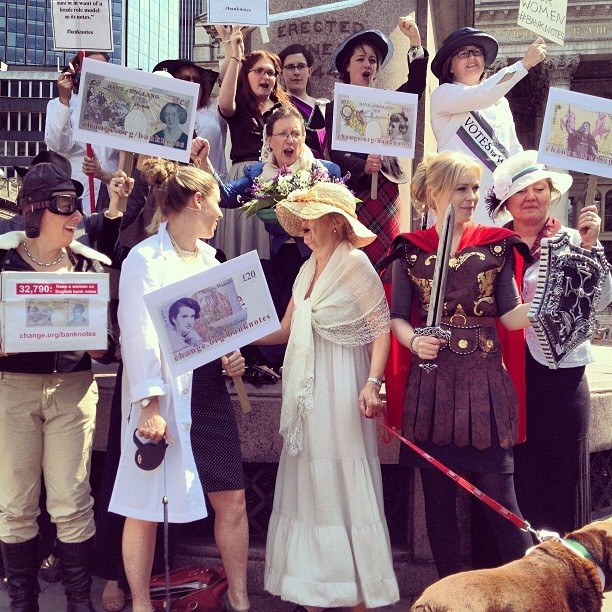 In a letter to the Conservative MP Mary Macleod, Carney said he had raised the issue on his first day in the job.
"I consider Sir Winston Churchill to be an excellent choice to appear on a banknote," he wrote. "However, I fully recognise that, with Sir Winston replacing Elizabeth Fry as the character on the £5 note - in the absence of any other changes to the Bank of England's notes - none of the four characters on our notes would be a woman. That is not the bank's intention.
"Our notes should celebrate the diversity of great British historical figures and their contributions in a wide range of fields."
Macleod suggested Rosalind Franklin, who contributed to the discovery of DNA; Emmeline Pankhurst, the figurehead of female suffrage; and the National Trust founder and campaigner against poverty, Octavia Hill.
Jane Austen is the leading favourite for the next £10 note. In June, Carney's predecessor, Sir Mervyn King, said the author of Pride and Prejudice was "quietly waiting in the wings".