Women hold Handmaid's Tale protest in Washington DC over Trump's healthcare bill
Thirty costumed Planned Parenthood volunteers descended on the Capitol building.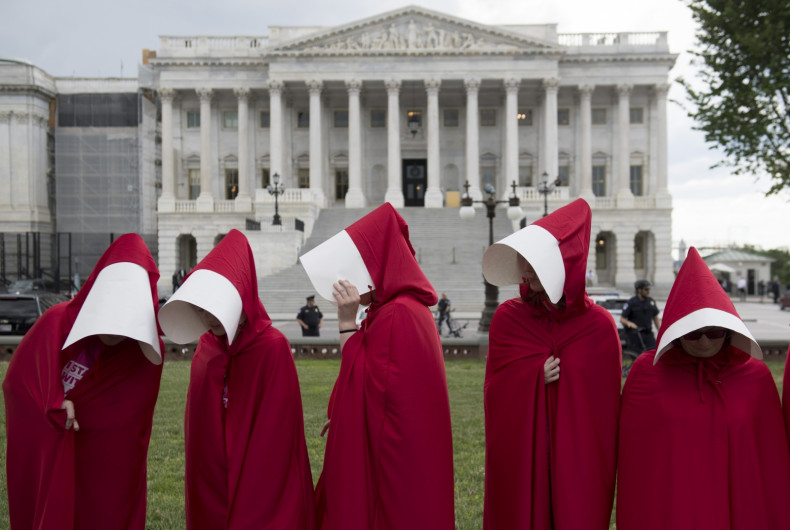 Women dressed in attire styled on The Handmaid's Tale staged a demonstration against the Senate's GOP healthcare bill on Tuesday, in protest of the Senate healthcare bill.
Thirty Planned Parenthood volunteers gathered outside the Capitol building in Washington DC to protest the "devastating" bill.
"It would be the worst bill for women in generations and decimate women's healthcare," Fern Whyland, communications director at Planned Parenthood Empire State Acts, told the Hill.
"It's a healthcare bill with no healthcare."
In Margaret Atwood's 1985 dystopian novel The Handmaid's Tale, which was adapted into a TV series this year, women are forced into sexual servitude in order to reproduce under a totalitarian state.
The Handmaids are forced to wear red costumes to symbolise their reproductive purpose.
This is not the first time women have used Atwood's feminist text to protest inequality. Earlier this year, women dressed in costume protested abortion bills in Texas and Ohio.
"Dressing up as a handmaid gives a clear message to our administration and the Senate about how seriously we take their decisions and how radically it can affect our lives," one demonstrator, Elena Lipsiea, told The Hill.
The proposed Better Care Reconciliation Act would completely defund Planned Parenthood for one year, affecting all medical services, including cancer screenings and smear tests. The overwhelming majority of their services are in preventative care.
The bill would also roll back the Affordable Care Act's expansion of the Medicaid programme, which provides insurance coverage for millions of low and middle-income Americans.
Experts have said the cuts to the programme could hit women the hardest, as a disproportionately large number of low-income women depend on it.