If there was ever someone to inspire girls into science, Anne-Marie Imafidon is the woman for the job. Imafidon is the co-founder of Stemettes, an award-winning social enterprise encouraging girls into the fields of science, technology, engineering and maths, and she has an intimidating CV.
Having passed GCSEs in maths and ICT aged 10, she holds the current world record for the youngest girl ever to pass an A level in computing – she was 11. Two years later, she received a scholarship to study maths at a top US university. Imafidon then went on to become one of the youngest to be awarded a Masters degree in maths and computer science at Oxford.
Yet despite the incredible successes of the likes of Imafidon, women are still chronically underrepresented in the STEM workforce. The problem starts young: more boys take science subjects at school, and studies have shown the girls who do take them, and so often excel, lack the confidence to pursue the high-paid STEM careers. Too many talented young scientists, technicians, engineers and mathematicians are walking away from exciting, rewarding and well-paid jobs.
"I graduated, worked for two years and then it was only when I was sent to speak at a conference in the US that it hit me – I was a woman in tech," Imafidon tells IBTimes UK on the International Day of Women and Girls in Science.
"I had this new identity of being in a shrinking minority of women working in tech, and I thought that isn't right – not on my watch."
And so, Stemettes was created. "It was an emotional response to 'great, I'm a woman in tech – not so great that I'm in a shrinking minority'," Imafidon says. "We started the Stemettes Project, as it was known then, in February 2013. It snowballed from there."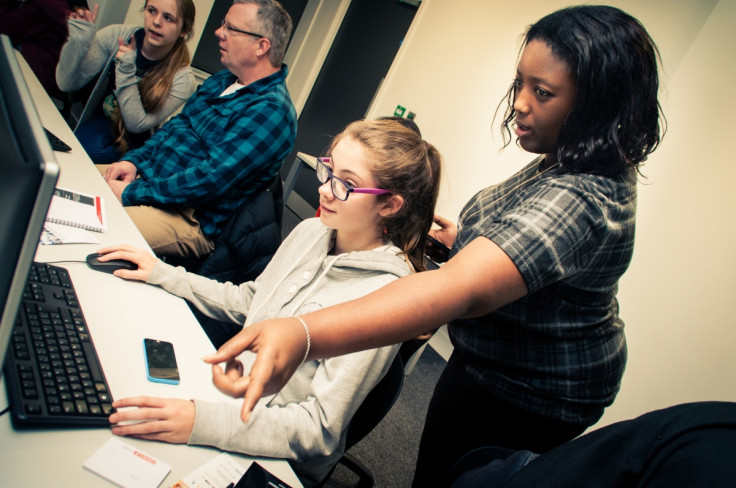 In three years, thousands of girls across the UK, Ireland and Europe have attended Stemette events, such as panel sessions and hackathons. Gradually, the number of girls taking STEM subjects at school is increasing. In 2015, 32,700 more girls entered into STEM GCSE exams, compared to the previous year – an increase of 3%.
Why are so few girls taking STEM subjects?
"There are several parts of this multi-faceted problem that we have," Imafidon says. "For girls, there is a whole load of unconscious bias which says 'girls don't do that' – from parents, newspapers, EastEnders, everywhere."
Subject clashes are also a problem, she adds. "If you do want to pick a STEM subject at GCSE, but want to combine it with another subject like art, timetabling makes it difficult. Computer science and art are often put in the same stream, assuming nobody will do both. But you are 17 times more likely to get a Nobel Prize in science if you have engaged in the arts too."
"All this adds up to how you marry two sides of yourself together," Imafidon says. "You end up bowing to the 'girls don't do science' and giving up on it."
Later down the line, this dearth of girls taking STEM subjects at school is the precursor for the problem of the lack of women in STEM industries. Only around 14% of the UK's STEM workforce are female.
"Another problem is that we don't have women staying in the industry because how the environment can end up being or feeling," Imafidon says. "There is the notion that for so long, it has been a certain type of person working in STEM – so if you are made to feel like a foreigner, it gets to the point where you have enough self-worth to leave the job for something more comfortable or fulfilling.
"The problem is about not being hired, not being promoted and having people stand by while it is happening. That is when you see women deciding to leave."
Stereotyping of girls and women does nothing to redress the situation. "Stereotypes are definitely negative," she says, adding it excludes those who do not fit in with the perception of a female scientist. "I don't consider myself a nerd, I've never watched Star Wars, I have never been into gaming, I'm not into The Matrix – but it is almost as if adopting that subculture means you can survive in the industry."
"Even if the stereotype is not real, if you encounter is enough times, it becomes real and self-perpetuating."
Why do we need more girls in STEM?
"We need more people in STEM as a race living on this planet," Imafidon says. "We need more people to solve the huge problems we have, from food scarcity to health epidemics. But these problems need to be solved by all sorts of people – just having a male perspective on these issues doesn't help. It doesn't solve problems in their entirety. You need a female perspective.
"For example, seat belts were developed for the height and weight of an average man – so killed a lot of women who first used them. Seatbelts are a poignant example of how something designed to save lives was created in a male vacuum, and it killed people. We are missing out on solving the world's problems properly and we are creating even more problems."
Imafidon points out that there are so many benefits to be gained from taking STEM subjects at school and higher education. "The main two for girls are creativity and altruism. Being able to create something and make it your own – and feel a sense of ownership. You can be so creative in science – if you study it enough, you can spend your life creating things and problem-solving."
It is this scope for creativity that first piqued Imafidon's interest in computers. When she was four, she was allowed access to her dad's computer.
"I wrote my own version of Little Red Riding Hood, except I changed her hood from red to purple," she says. "I wrote it in Microsoft Word, saved it, and the next day I was back at the desk and it was there exactly as I typed it. I found it absolutely fascinating that something I had made and created was in this machine."
STEM also offers women and girls the chance to help others on a mass scale. "If you engineer a bridge, or turn six litres of urine into an hour's worth of electricity, there are so many lives you can save," she explains. And of course, there is the issue of pay. "If I'm talking to the parents, that is the main thing," Imafidon laughs. "But that is never really the driver for girls…"
Although the support Stemettes has received has been overwhelmingly positive, there has been some backlash. In part, because critics say a girls-only space it does not help the integration of girls into STEM at school.
"Some people don't like the concept of having to make a girls-only space to solve the problem, but for us this is the beginning of solving it, because you need girls to feel comfortable and confident in those safe spaces before going out a competing."
As with all girls and women's rights movements, however, there is usually some kind of backlash. "If not, you aren't doing it right," Imafidon laughs.
"Most women in the industry hear about Stemettes and say they wish they had that support when they were younger."
Stemettes, winner of the EU Digital Organisation of the Year award, will launch its flagship app, OtotheB, on Saturday 13 February 2016. OtotheB will create a global online platform for girls interested in science, technology, engineering and maths, and entrepreneurship. Follow @Stemettes to find out more.