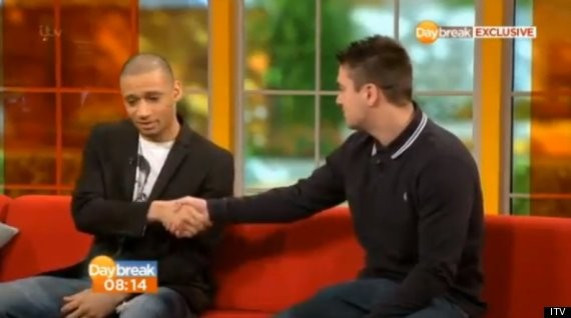 A Twitter troll has apologised to boxer Curtis Woodhouse on live television after the fighter paid him a home visit in response to persistent online abuse.
James O'Brien shook hands with Woodhouse on ITV's Daybreak after the boxer won acclaim for standing up to a tirade of hateful tweets from the Sheffield man.
O'Brien bombarded Woodhouse, a former professional footballer who played for Birmingham City and Sheffield United, with insults on the social networking site for eight months.
This week, Woodhouse decided enough was enough after being labelled a "disgrace" by O'Brien following a controversial defeat.
Woodhouse stunned O'Brien by driving from Hull to Sheffield to confront him over his abusive tweets, posting a picture showing he had arrived at O'Brien's street.

Scared O'Brien then issued a pleading tweet and hurriedly deleted the latest tranche of hate messages aimed at Woodhouse from his timeline.
Writing under the handle jimmyob88, O'Brien pleaded: "I was only joking... Didnt think you would be bothered thought you would take them as a joke."
Woodhouse became a sensation on the micro-blogging site for his actions, winning praise from former boxer Lennox Lewis and also footballer Joey Barton.
Today, O'Brien ate his words live on TV with Whitehouse sitting next to him. He admitted "letting everyone down" with his abuse.
Woodhouse accepted the apology and congratulated O'Brien on making it.
O'Brien said: "I was really childish. Looking back on it, I realised that I had done a wrong thing.
"I can only offer my deepest apologies to anyone I ever abused on Twitter. I've let everyone down - friends, family - and I do feel really embarrassed."
Woodhouse explained why he took on his Twitter troll: "I was sat on the sofa with the wife on Monday and the thing is she sometimes uses my account as well and she's seen this abuse and it worries and scares her.
"We don't know who this guy is and some of his threats, I don't know if he's being serious or not. I could see that she was worried and I thought enough is enough, I am going to put a stop to this right now.
"If you are in the public eye, I don't think it's right that you should be abused, your family should be abused, your children should be abused, I don't think anyone has got the right to do that."