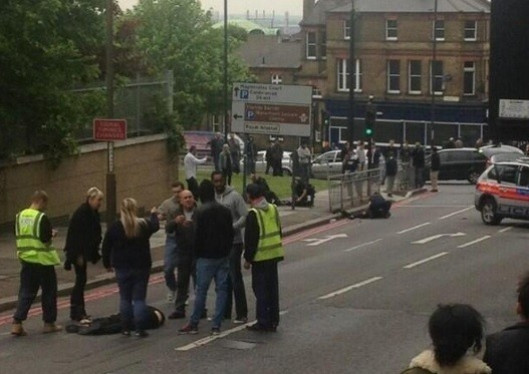 Far-right violence has erupted in Woolwich town centre hours after two men said to be Muslim terrorists hacked a man to death in broad daylight.
Up to 150 English Defence League supporters clashed with police in running battles outside Woolwich Arsenal Docklands Light Railway station. The far-right supporters had gathered in response to a call by EDL leader Tommy Robinson who had called for "feet on the street" in response to the killing.
The victim was believed to be a soldier serving at the Royal Artillery Barracks in Woolwich.
The mob congregated at the Queens Arms pub before hitting the town centre where they clashed with police and ran off.
Police in protective headgear and armed with shields played cat and mouse with EDL supporters who hurled bottles at police lines while chanting "Rule Britannia".
The violence brought traffic chaos to Woolwich with police vans rushing from scene to scene.
There were no reports of arrests or injuries.
More follows...