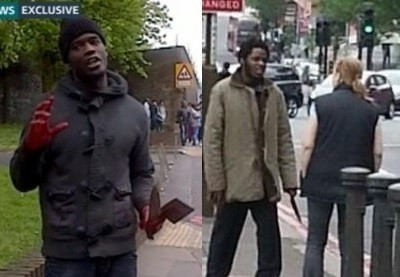 One of the Woolwich machete attackers was preaching angrily in the town centre just days before a soldier was killed, say locals.
Witnesses to the attack in John Wilson Street, said they had seen a man ranting in public about politics to uninterested passersby.
After the murder, which happened in broad daylight, some residents claimed that they recognised one of the alleged perpetrators who stood around for 20 minutes until police arrived.
Jamie France, 29, claimed that one of the attackers was preaching hate in Woolwich town centre a week ago.
He said: "I spoke to my mum and showed her the video footage from the internet, and she told me she recognised one of the men with the knife.
"She said she'd seen him last week preaching. She said she remembers him because he'd been really angry and was saying all this political stuff."
His mother, Susan, witnessesed the attack and confirmed she had seen one of the attackers previously.
"I thought. Oh my God, I've seen him before," she said.
Witness accounts of the street sermons strengthens suggestions that the attack was perpetrated by Islamic extremists.
They chanted 'Allah Akhbar' while using meat cleavers to butcher the soldier, who was wearing a Help for Heroes T-shirt.
The pair appeared to want maximum publicity for their actions by telling shocked pedestrians to film them.
Cub scout leader Ingrid Loyau-Kennett confronted one of the knife-wielding men who had blood on his hands.
She told The Telegraph: "I thought these people usually have a message so I asked him: 'What do you want?'"
Loyau-Kennett said he answered: "We want to start a war in London tonight. I killed him because he killed Muslims and I am fed up with people killing Muslims in Afganistan."
Prime Minister David Cameron called the attack "a betrayal of Islam" and said: "This country will be absolutely resolute in its stand against violent extremism and terror. We will never give in to terror or terrorism in any of its forms."
One of the suspects has been named as Nigerian Michael Adebolajo.