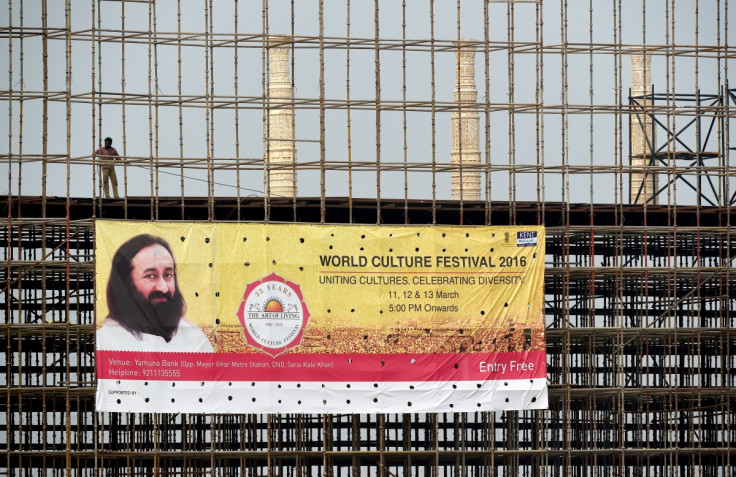 Thousands of people have slammed Sri Sri Ravi Shankar, founder of the Art of Living, for locating the The World Culture Festival 2016 on the banks of the Yamuna River. Environmentalists have already warned of the potential for "grave destruction" to the river should the festival, which began in India's capital of New Delhi on Friday (11 March), be allowed to continue.
The three-day festival opened in the Indian capital and is aiming to bring together nearly 3.5 million people from around the world. It is being hosted across 1,000 acres on the banks of the Yamuna and is believed to be one of the largest cultural gatherings in recent times.
A number of world leaders are also expected to attend the event, with Prime Minister Narendra Modi inaugurating the festival on Friday evening. Despite the festivities, many have chosen not to support the work of the Art of Living foundation and have, instead, decided to protest against the cultural event.
The festival was still allowed to go ahead despite organisers being fined by the country's National Green Tribunal (NGT) for the its impact on the environment. Shortly after it began, the hashtag #SriSriInsultsIndia began trending nationwide on Twitter.
As thousands took to Twitter to condemn the event and those attending it, a group of people also gathered at the gates of the event with banners that read 'Boycott Sri Sri'. A number of the protesters then shared images on Facebook of them being forcibly removed by the police.
Among those protesting at the venue were a group of farmers, who days earlier had gone on hunger strike. They claimed that there had been a forced takeover of their land in the Yamuna floodplains, The Quint reported.
Vimlendu Jha, founder of NGO Swechha and one of the people leading the campaign against the event, wrote on his Facebook page: "My last update on this matter, as am not angry but sad and disillusioned with the state of affairs in the country. Last couple of days have seen an absolute travesty of justice and rule of law, attack on the basic fibre of governance, being questioned for all the work we have put forth over a decade and a half. Totally drained, down and out, never felt such loss of hope in all these years."
While the protesters at the venue were removed before they were able to gain a strong visible presence, their Twitter counterparts were successfully able to finish their job for them. With #SriSriInsultsIndia trending and even the #WorldCultureFestival hashtag filled with negative tweets.