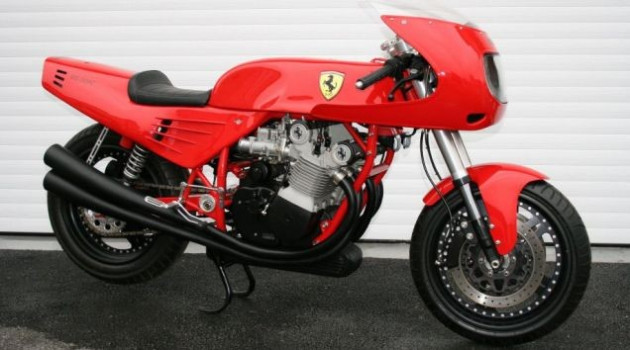 The world's only Ferrari motorbike, built in 1995, is to go up for auction with an estimate of £75,000 - £100,000.
The bike, a Ferrari 900, has a 900cc engine producing 105hp, and is capable of 0-60mph in less than three second with a top speed of 160mph.
David Kay wrote to Enzo Ferrari's son Piero, requesting to have permission to build a one-off motorbike sporting the famous Ferrari prancing horse logos, and in May 1990 Kay got the reply he wanted: "the approval to place the Ferrari logo on your motorbike."
The bike was built from scratch and took Kay approximately 3,000 man-hour to complete and features a 'scratch built' 900cc, transverse, double overhead camshaft, four cylinder, eight valve unit with magnesium and alloy casings, driven through a five speed gearbox.
The bike is being sold by Bonhams auction house, and the item listing states: "Terry Hall, who also produced the double curvature reverse cone megaphones, made the entire bodywork out of aluminium. In Kay's own words these are too beautiful to merely funnel exhaust gases from engine to atmosphere; 'the noise is like a Messerschmitt chasing a Spitfire'."
A private British collector has owned the Ferrari 900 for the past 17 years, where it has been displayed as a work of art in the drawing room of his house, but he has now decided the bike needs a new home.
A spokesperson from Bonhams said: "This bike is in immaculate condition. This work of art is one of many headline bikes we have on sale this year. I have never in all the time I've been working here seen such an unbelievable standard of bikes, we've never had this standard of auction before."
The auction will take place on 29 April, where it is expected to reach £100,000.