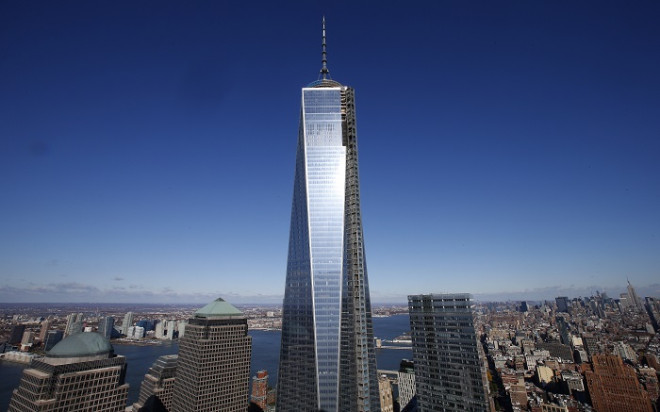 The World Trade Center's security chief David Velazquez has resigned following a series of high-profile security breaches at the building.
A spokesman for The Durst Organisation, the real estate company in charge of security at One World Trade Center, confirmed that Velazquez resigned from his position as assistant security director on Friday.
Velazquez's departure comes just days after three skydivers were charged with burglary, reckless endangerment and jumping from a structure for parachuting off the building last September.
On Tuesday, police for the Port Authority of New York and New Jersey, which controls security at the wider World Trade Center site, arrested and charged two CNN producers, who were accused of trying to breach security.
Police spokesman Joe Pentangelo said Yon Pomrenze and Connor Fieldman Boals attempted to enter a gate leading to the lower Manhattan site but were stopped by an officer.
Earlier this month, New Jersey teenager Justin Casquejo was arrested after sneaking into the tallest skyscraper in the US undetected and climbing to the top of the 1,776-foot building to take pictures.
The 16-year old reportedly breached the building's security perimeter through a hole in the fence and bypassed a guard who was sleeping. The guard was subsequently fired, along with another security guard who was also caught sleeping on the job.
Security has been a major concern for New York officials since the original World Trade Center buildings were destroyed in the September 11 terrorist attacks in 2001.
The perimeter of the site is protected by more than 200 officers and a network of surveillance cameras, while the inside of the complex is guarded by Port Authority police and private security agents.
The flagship World Trade Center tower is scheduled to open later this year. When completed, it will have a $40m security system including guard booths and double-barrier systems which will enable vehicles to be checked for dangerous materials.
The recent security breaches are reminiscent of similar breaches that took place during the construction of the now-vanished Twin Towers in 1974, and which culminated in an illegal tightrope walk by Philippe Petit. This remarkable feat was remembered in James Marsh's 2008 Oscar-winning dicumentary Man on Wire.
Watch the trailer for Man on Wire below.