World's biggest artificial sun switched on in Germany
Synlight was switched on at the Institute for Solar Research in Jülich.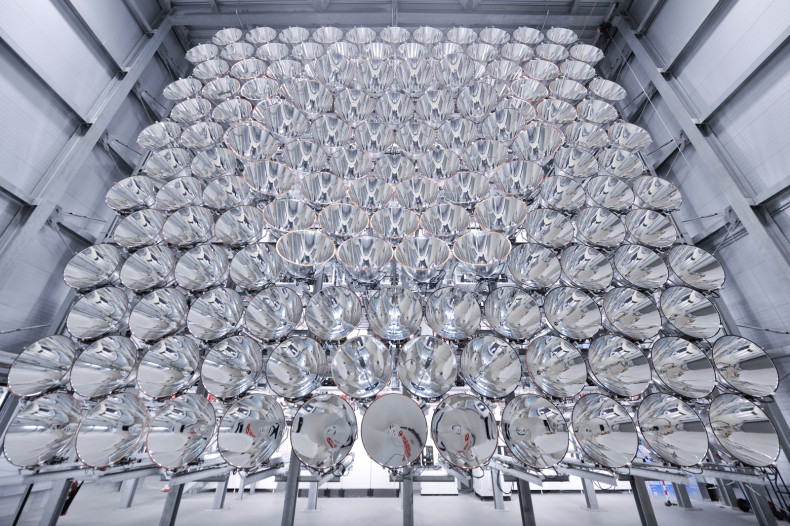 The world's biggest artificial sun has been switched on, with the Synlight machine at the Institute for Solar Research being used to explore the potentials of clean and renewable energies. Specifically, scientists hope to test production processes for solar fuels such as hydrogen.
Synlight has 149 high-power spotlights that can generate solar radiation. The radiation from the lamps can be focused in on areas of 20 X 20cm. If the lamps are turned up to 350kw, it has around 10,000 times the energy of the Sun's radiation hitting Earth. The temperatures can reach up to 3,000C.
The machine was switched on by Johannes Remmel, the North Rhine-Westphalian Minister of the Environment. He said that in order to meet targets for renewable energies – and the expansion of them – the government must look to existing technology. However, he said investment in innovation and modern technologies – like Synlight – is essential for the future of energy production.
Hydrogen is currently being studied as a potential fuel of the future because it burns without releasing carbon dioxide. Getting at it involves splitting water into hydrogen and oxygen – which requires energy. And this is where Synlight comes in. Researchers hope to use the artificial sun to test out ways to split water and produce solar fuels.
The goal of Synlight is to find a way to produce solar fuel on commercial scales. Karsten Lemmer, CEO of the German Aerospace Centre (DLR), said: "Renewable energies will form the backbone of global energy supply in the future. Solar generated fuels offer great potential for long-term storage, the production of chemical raw materials and the reduction of CO2 emissions."
Synlight took almost two years to build and cost around €3.5m (£3m, $3.8m). As well as solar fuel, the artificial sun can also be used for research in space and industry.