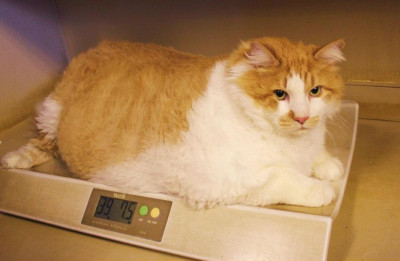 Who is the fattest cat in the world? Well, for those of you who answered Garfield, you're right. However, we're not talking about the cartoon character.
Garfield, a cat from New York, weighs nearly 40lbs and has been dubbed the fattest cat in the world, comfortably squeezing Sponge Bob, who weighed a trim, relatively, 33lbs.
The overweight puss was adopted by the Port Washington-based animal welfare shelter North Shore Animal League America - the world's largest no-kill animal rescue and adoption organisation, after his owner died. The organisation, which released photographs of Garfield on its official Facebook page, said Garfield was as lazy as his cartoon namesake.
"At nearly 40 pounds, Garfield just might just be the fattest cat on the planet, and he's becoming a media sensation, much like the comic character whose name he bears," the adoption organisation said in a statement. They did, however, add that the animal's size was definitely not something to be admired. According to veterinarians, an overweight animal can face severe health problems.
"Just like with humans, too much weight can cause serious health problems. It leads to diabetes, heart disease, joint, bone and ligament damage, high blood pressure, intolerance to heat and more," Mark Verdino, Vice President and Chief of Veterinary Staff at North Shore Animal League America, said.
The organisation is trying to help Garfield shed those extra pounds before they can find him a new owner, as his weight puts undue strain on his hips and makes it difficult for him to walk.
Garfield has been put on a low-calorie diet and is under extensive care. However, the organisation admitted Garfield had endeared himself to everyone around.
"When Garfield was brought to North Shore Animal League America on May 31, 2012, the entire staff was immediately smitten with the tubby tabby. He warmed up to his caretakers immediately, rolling over for long belly rubs. His sweet disposition and imposing size endeared him to everyone who met the larger-than-life feline, whose owner had recently passed away," the statement added.
Start the slideshow to view pictures of Garfield...