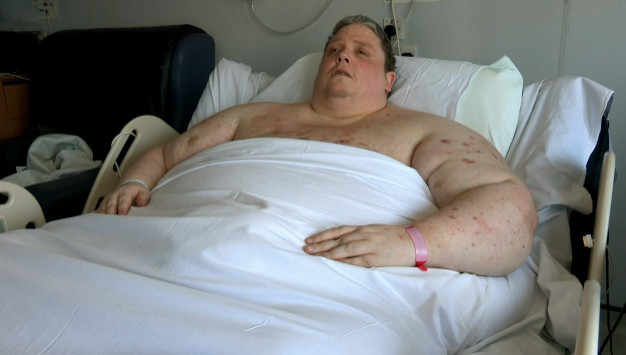 Keith Martin, the British man who held the title of world's fattest man after once weighing 70 stone, has died aged 44.
Martin died from pneumonia following a lengthy battle with his weight, which he gained after eating around 20,000 calories a day.
It has emerged Martin died at a hospital in London in March, eight months after he underwent a life-saving operation to remove three-quarters of his stomach.
The operation meant Martin was able to lose nearly half his body weight after dropping to 39 stone.
According to Dr Kesava Mannur, the surgeon who performed the gastric sleeve at Homerton Hospital, the 44-year-old could have gone on to lose even more weight and live a relatively normal life had he not died.
Mannur is now calling for the government to introduce NHS guidelines which would mean anyone with a Body Mass Index rate of higher than 30 or type 2 diabetes would be offered weight-loss surgery.
He said: "The government needs to make unhealthy fast food more expensive,"
"Otherwise we'll continue to see more and more people like Keith. In the past few years I have treated several people who weighed between 45-60 stone.
"In Keith's case, it's a shame because he'd had successful surgery despite being high-risk because of his size. It was unlucky he then caught pneumonia.
"Bariatric surgery can be a very good thing for the people who need it."
Martin, who featured in a Channel 5 documentary entitled 70 Stone & Almost Dead, said he would turn to food as a means of comfort to cope with depression and anxiety following the death of his mother.
At his worst, Martin said he would eat six fry up breakfasts as well as eating pizzas, kebabs, Chinese takeaways and Big Macs and other fast-foods for lunch and dinner every day.
Speaking to Channel 5 prior to his surgery, he said: "I'd resigned myself that either I was going to die in my bed or I was going to kill myself. But now I think 'you stupid person'.
"I'm a lot more confident than I used to be. I feel a lot happier. In a few months' time I want to be up and walking.
"I know the only person to blame is me. All those years wasted. I'm not going to waste any more of it. "