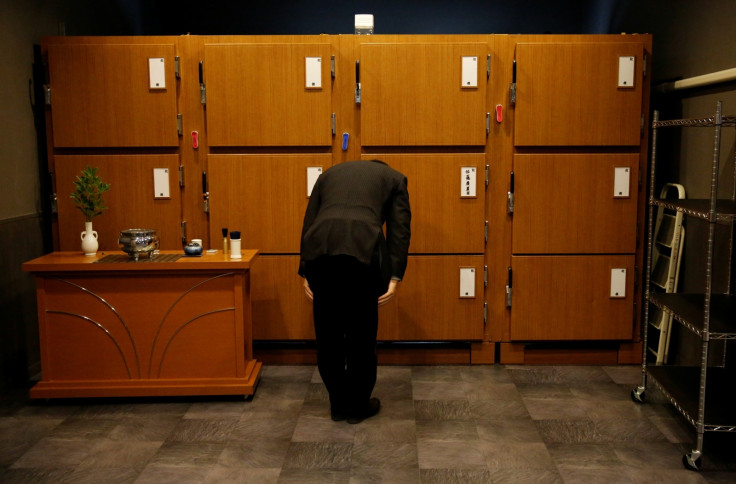 A drive-through system is no more a novel idea when it comes to collecting your burgers from a uniformed worker from the luxury of sitting inside your car. But, it certainly is one if it allows you to pay final respects to deceased loved ones. A Japanese funeral parlour is just offering that.
The Aishoden funeral home, which operates in Ueda city in central Japan prefecture, said the system is first of its kind aimed at allowing elderly and disabled citizens to attend funerals. Japan's rapidly ageing population can only mean the funeral service is anything but a booming business – a cutthroat competitive market estimated to be worth Yen 1.76tn (£11.7bn) annually.
Those mourners who would like to pay tributes can pull up their car besides the funeral home's drive-through window and register their names with a receptionist. They can also give condolence money and traditional incense to the worker.
"I've been in this business for a while and have seen how burdensome attending funerals can be for old folks in wheelchairs. The new service will allow those who would otherwise stay home go out and bid farewell to friends and family," the company's president, Masao Ogiwara told the Japan Times. The entire funeral time will also be cut short, hopes the service operator.
Formally launched on Sunday, 17 December, the funeral service is more seen as a move to cater the physical needs of grieving relatives than to satisfy the needs of impatient customers in a country's culture where taking part in the funeral is highly significant. The mourner's visit will be videographed so that other mourners can watch who all attends the occasion.
"It responds to the feelings of people who have given up on participating in funerals. I think the chief mourner would also be happy about the fact that they came," said Kazuhiro Ogura, 30, who took part in the tour.
Funeral businesses are among the thriving trades in Japan, where the death rate far outstrips the birth rate. More than one-fourth of the Japanese population is aged 65 or above and the figure is forecast to only rise in the future.