The last remaining male northern white rhino, also known as "the most eligible bachelor in the world", has joined the Tinder dating app.
At the ripe old age of 43 (100 in rhino years), Sudan is looking to go out with a bang – but not the one that springs to mind.
Sudan – who lives in Kenya – is unable to breed naturally with either one of the two last northern white rhino females: 17-year-old Fatu and 27-year-old Najin. Scientists would have to use Sudan's sperm to fertilise an egg from either female and the embryo would be implanted in a surrogate southern white rhino, which is a more common species, Reuters reported.
Together with Tinder, Ol Pejeta Conservancy has launched a campaign to raise $9m (£7m) to protect the species from extinction. The funds will go towards developing in vitro fertilisation (IVF) methods "to achieve successful pregnancies to gradually build up a viable herd of northern white rhinos."
Sudan's Tinder exploits kicked off on Tuesday (25 April) and he appears to have nailed the art of the sell.
"I don't mean to be too forward, but the fate of my species literally depends on me," his profile reads. "I perform well under pressure. I like to eat grass and chill in the mud. No problems. 6ft tall and 5,000 pounds if it matters."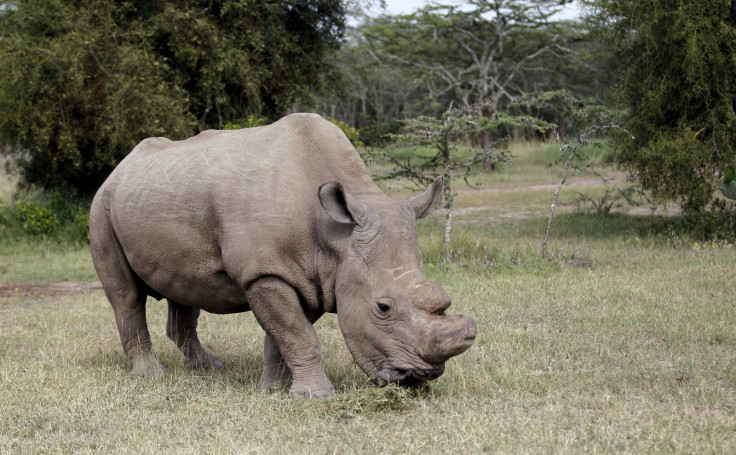 When users of the dating app swipe right on Sudan, they will be directed to Ol Pejeta's donation page. His profile will be seen in 190 countries and in more than 40 languages.
Sudan is protected around the clock by armed bodyguards. Previous attempts to get Sudan to mate with Fatu and Najin have failed due to a number of issues, including old age.
"It's never ever has been done in rhinos before," Richard Vigne, head of Ol Pejeta Conservancy, told the BBC. "This is a 10-year programme to recover that species.
"We'll hopefully keep him alive as long as we can – but we are in a race against time if we are going to recover this species."
Vigne added: "This represents the last option to save the species after all previous breeding attempts proved futile."
Over decades, poachers have pushed the northern white rhino to the brink of extinction as the creatures were hunted for their prized horns. According to conservation charity WWF, "powdered horn is used in traditional Asian medicine as a supposed cure for a range of illnesses – from hangovers to fevers and even cancer."
Northern white rhino horns can fetch up to $50,000 per kilo, making it more expensive than cocaine and even gold.
For more information on how to support the campaign to protect the northern white rhino from extinction, click here.