An endangered rhino has been killed and deprived of its horn after poachers shot it in the head at Chitwan National Park.
The rare one-horned rhino was left for dead in a pool of its own blood after the assailants fled with its only horn in an attack that is being described as a premeditated plot by the park's chief warden.
Ram Chandra said: "The poachers fled with his horn and tail and left the animal in a pool of blood.
"It appears that they were planning this for a long time and were waiting for an opportunity to strike."
Most rhinos have two horns, although this rare breed was singled out as a vulnerable group – conservationists recently took one in to try and increase its numbers, and the latest attack is a blow to hopes of breeding more.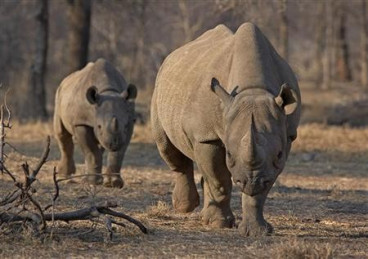 Subsequently, five rhinos – one male and four female – were released into the park to form a breeding group.
The group responsible for the attack bypassed safeguards in place that had prevented poachers from striking for over three years and seized their opportunity to claim the horn during a storm.
A post-mortem found that the creature had been hit in the head with a bullet, but as no gunshots were heard, park officials believe that those responsible for its death may have used a silencer.
Rhino horns are highly sought-after by illegal poachers due to their incredibly lucrative value on the black market. In terms of weight, rhino horns can cost the same amount as gold.
The horns contain keratin – a protein that protects cells from damage or stress. The horns are sometimes ground up and consumed, as they are believed to contain therapeutic properties.
The park has launched an investigation into the circumstances behind the rhino killing to determine how the poachers were able to attack the creature.