Misao Okawa was born in the 19th century, is 114 years old and has been recognised as the oldest living woman in the world, by Guinness World Records. Okawa accepted the recognition just a week ahead of her 115th birthday, which falls on 5 March.
Born to a family of kimono merchants in Osaka, Okawa said she was "happy" with the recognition and celebrated the occasion with a bowl of mackerel sushi. Okawa, married in 1919, has three children, four grandchildren and six great grandchildren; two of her children, both sons, are in their 90s.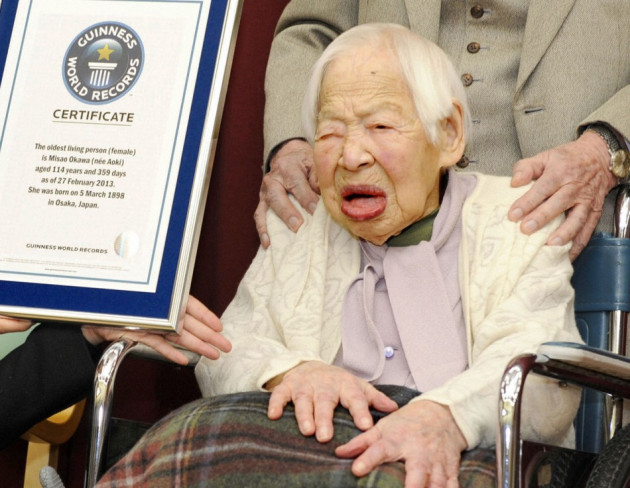 The oldest living woman in the world, who is confined to a wheelchair, said: "I'm happy. I'm feeling good anyway" and attributed her longevity to a good diet. She said you could eat whatever you want, as long as it was made in Japan. Her relatives claim she has never had any major illness in her life, apart from a broken leg when she was 102 years old.
Misao Okawa was recognised as the oldest living woman after two other women, aged 115, in quick succession. First, an American woman, Dina Manfredini died in the town of Johnston, Iowa. And then Koto Ukubo, a resident of Tokyo, died in January, paving the way for Okawa.
Incidentally, this now means Japan is home to the oldest living man and woman. The oldest man, also aged 115, is Jiroemon Kimura and he lives in Kyoto.
Secret behind Japanese Longevity
Reuters reports there are 50,000 people, above the age of 100, in Japan. And Naomi Moriyama supports Okawa's claim that it is the Japanese diet which contributes to their longevity.
"The Japanese diet is the iPod of food. It concentrates the magnificent energy of food into a compact and pleasurable size," Moriyama, the co-author of Japanese Women Don't Get Old or Fat: Secrets of My Mother's Tokyo Kitchen, told Web MD.
And all of this works. Data from a 2011 United Nations study, published by Live Science, states Japanese men and women enjoy the highest life expectancy at birth in the world - the figure is 80 years for men (on par with Australia, China, Hong Kong, Sweden and Israel) and 87 for women (the highest in the world; China and Hong Kong are second with 86 and France, Italy and Spain follow with 85.