As both sides of the Scottish referendum make their final push before the historic vote, doubt and debate still lingers over what would happen if Scotland became independent.
On the eve of the poll, the outcome is still too close to call, with the latest figures putting Better Together's 'No' campaign marginally in the lead with a 52% majority.
If Alex Salmond's 'Yes' campaign does see a surge in the voting and wins the referendum, it will have major political and economic implications for the country.
However, campaigners and Scottish MPs also raised a suggestion which could alter how its intelligence services are viewed as well as Scotland's relationship with the rest of the world.
Edward Snowden, the NSA whilstleblower who revealed surveillance techniques used against US citizens on a mass scale, is currently in Russia having been granted political asylum after fleeing his home country of the United States in May 2013 following the disclosure of the classified documents.
Earlier this year, campaigner Mick Napier put forward a petition urging Holyrood to grant Snowden asylum in Scotland should the country vote 'Yes' on 18 September.
Napier, a former university lecturer, made the case to Members of the Scottish Parliament (MSPs) in front of the Public Petitions Committee, saying the country owed Snowden a "debt of gratitude" as his actions were of significance to "every single citizen in Scotland".
He added: "He acted out of the purest of motives and an offer of asylum to the man by an independent Scottish government - an offer made today conditional upon an outcome in September - would itself be news and would allow the members of this committee to strike a blow for a private life for all of us."
Supporters also said granting Snowden asylum would signal a "clean break against the intrusiveness of the UK security state".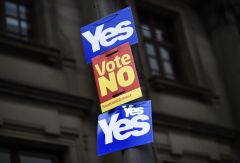 The petition was made after Snowden was elected rector at Glasgow University, which Snowden described as a "great honour" during an address to students via video link.
An independent Scotland would break its ties from the UK, and with it, no longer claim to be a part of the "special relationship" it shares with the US.
The suggestion that Scotland would risk a diplomatic backlash from the US by granting Snowden asylum was described as "outrageous" by some MPs.
Dr Daniel Kenealy, deputy director of Edinburgh University's Academy of Government, said the fallout from the decision would be comparable to the release of the Lockerbie Bomber.
"There'd be one hell of a diplomatic reaction you can be sure, with efforts no doubt by certain US members of Congress to whip-up 'boycott Scotland' sentiment," he said.
The Scottish Government said they will discuss the issue further once the referendum has been decided. However, even if there is a 'Yes' vote, issues such as asylum will still be decided by the UK government until Scotland is fully independent, meaning no decision on Snowden could be made until March 2016 at the very earliest.
Snowden was granted permission to stay in Russia for three more years in August 2014, and allowed to travel abroad for three months at a time.
A Scottish Government spokesperson said: "Asylum is granted within the terms of relevant international law to those fleeing persecution or serious harm in their own country, and in need of international protection, and an independent Scotland would consider each case on its own merits when or if an application is made."