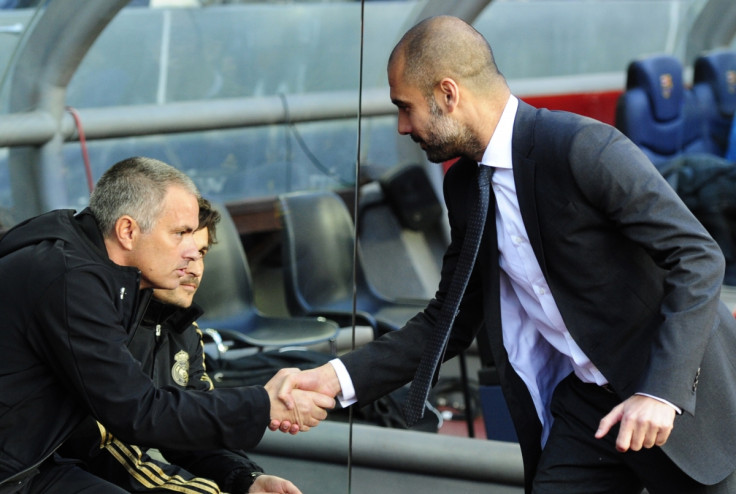 Barcelona legend Xavi Hernandez believes that Louis van Gaal's lack of tact and his relationship with the media are to blame for his struggling situation at Manchester United. The Spanish icon "feels sorry" for the Dutchman but backs former Chelsea manager Jose Mourinho to take over next campaign in order to see an exciting new duel between the Portuguese boss and future Manchester City boss Pep Guardiola in the Premier League.
The 36-year-old midfielder has been always open in his praise of van Gaal after the current United boss handed him his Barcelona debut during his time at the Camp Nou. He considers Van Gaal a "great manager" but believes his stubbornness could eventually cost him his job at Old Trafford.
"I feel bad for him. He is an honest man and a great manager ... who lacks a little tact. Furthermore, he gets along very badly with the press and that eventually undermine you. And if on top of that the results are not good you get to his current situation at Manchester United," the former Barcelona manager said during an interview with Mundo Deportivo.
"Sometimes I have talked to (Barcelona manager) Luis Enrique about things that van Gaal said or did (when he was at Barcelona) that seemed outrageous for us when we were players but now, however, we see that he was right, that he was ahead of his time."
Hernandez revealed that he knew that his former Barcelona boss Pep Guardiola was going to join Manchester City since Christmas – and backs Jose Mourinho to make him competition by joining Manchester United to replicate their former battles in La Liga.
"Pep was here in Doha during the winter break in the Bundesliga and already confirmed me that he was going to the Premier League, to Manchester City. He told me that he needed new challenges in his career after three years at Bayern and he needed to change. He had always being motivated about coaching in the Premier League and in English football," the former Barcelona icon revealed.
"I think that it would very good for football (to have a new battle between Mourinho and Guardiola). It will be sensational for the Premier League as it was during their time at Barcelona and Real Madrid, until things got twisted away from football. Next year it could be amazing (to see) the duel between Pep and Mou, if it is confirmed that Jose signed for United."
"It will be attractive. I am convinced that the City will do very well under Pep. It is clear that I absolutely agree with his understanding of football and his philosophy. Mou is a winner but with other football approaches that I do not share."
Meanwhile, asked whether Guardiola has been the manager who has left the biggest mark in his career, he said: "Undoubtedly yes, Pep, with Tito Vilanova and (former Spanish national team boss) Luis Aragones too."
"Pep and Luis are best in motivating players, to convince them to play the football they wanted. Tito was an encyclopedia, thanks to him Puyol scored two crucial goals in the World Cup against Germany and at the Bernabeu against Real Madrid. It was a play 'made in Tito'. I certainly do not want to forget about Van Gaal."