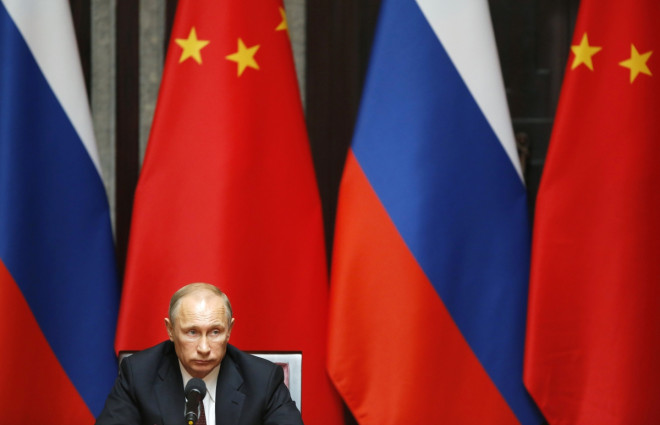 Vladimir Putin has grown used to getting what he wants. Adored domestically after annexing Crimea and grudgingly supported by many in the West over his stance on Syria (and even Ukraine).
But, cajoling China to sign a multibillion dollar gas supply deal is proving tougher than carving up Ukraine. Halfway through a diplomatic visit to China and the massive gas deal that he so desperately seeks, remains elusive.
The gas supply contract, thought to be worth around $400bn, is considered vital to both China and Russia's economies as both are embroiled in foreign policy disputes that threaten to strain diplomatic and economic ties with the West.
Russia's urgency stems from a need to diversify its energy clients in the face of Western criticism over its role in the Ukraine crisis.
Speaking on Tuesday, Russia's Prime Minister Dmitry Medvedev said old adversaries are on the brink of a new "Cold War".
"Basically we are slowly but surely approaching a second Cold War that nobody needs," he said in a television interview.
The West was so antagonised by Russia's annexation of Crimea and what its leaders perceive as Moscow's hand in the disorder in eastern Ukraine, that both Washington and Brussels have imposed economic sanctions on a range of individuals and companies with close ties to the Kremlin.
The threat of deeper sanctions that could target entire sectors of the Russian economy looms ominously before the Russian President. He knows a deal with China would give him more breathing space to pursue Russian interests in the face of Western penalties.
For its part, China is embroiled in a dispute with US-allied Vietnam over territory in the South China Sea. Thousands of Vietnamese responded by targeting what they thought were Chinese businesses in Vietnam, in a violent rampage that left scores dead.
Moscow and Beijing often act in conjunction at the United Nations Security Council and Chinese President Xi Jinping appeared to come around to the Russian view on the crisis in Ukraine, after months of fence-sitting.
In a joint statement released on Tuesday, the leaders called for a de-escalation of the crisis in Ukraine which they referred to as "domestic". They urged for "peaceful, political ways to resolve existing problems".
Yet, while the diplomatic warmth between Russia and China shows no sign of cooling, the long-running energy negotiations between the two sides seem no nearer completion.
That is because China is holding out for a better deal. Despite decades of false starts over a gas deal, the two countries' interests seem to have aligned at the same time.
The world's second biggest economy is trying to switch from coal to cleaner fuels while Moscow seeks to diversify its customer base away from Europe.
China experienced gas shortages last winter after the government imposed restrictions on coal use, while the country's gas consumption is set to more than double in the next six years.
Yet, despite the ample talk of a reduction in the price Russia is willing to accept, there has been no breakthrough on the deal, which suggests that China is holding out for an even lower price.
"The visit is not over yet. Talks will continue ... substantial progress is reached but there is still work to do on price," Putin's spokesman, Dmitry Peskov, told reporters on Tuesday.
"Talks are going on today, it can happen absolutely any moment," he added.
Despite the Kremlin's optimism, it looks more likely that absolutely nothing will happen until China gets the price it wants.