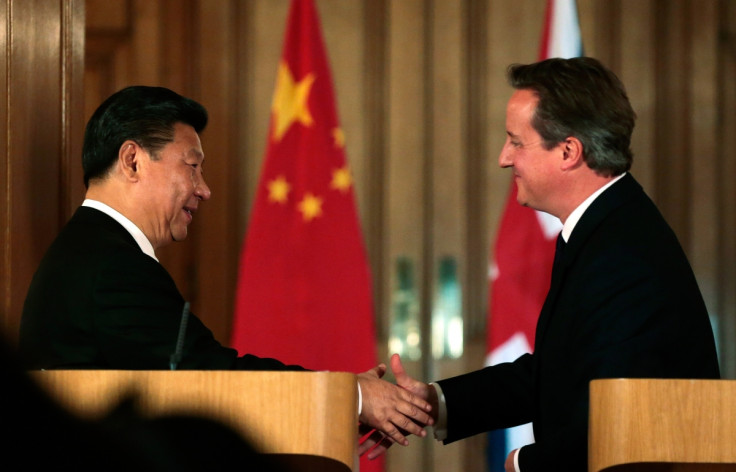 David Cameron will show off the so called "Northern Powerhouse" to President Xi Jinping on the final day of the Chinese premier's state visit to the UK. The leaders will visit Manchester, where the first direct flights between the city and China are to be announced.
A £4m ($6m) development deal involving Beijing Construction and Engineering Group (BCEG) is also expected to be unveiled during the trip. Elsewhere, the prime minister and Communist Party leader will attend a lunch at Manchester Town Hall.
The location is politically significant to Cameron and his Chancellor George Osborne as they have devolved powers from Whitehall to the region in a return for a directly elected mayor.
"We are committed to rebalancing our economy and building a Northern Powerhouse," the prime minister said. "China is a key trading partner for the UK and the partnerships being made today will see real investment going into the north. This is all part of this government's plan to attract more investment and deliver economic growth to an area of huge potential."
The leaders will also visit Manchester City Football academy and meet with past and present players from the club such as Patrick Vieira. On top of that, Cameron and Jinping will take a tour of the National Football Museum.
The last leg of the Chinese premier's visit to the UK comes after Cameron took Jinping to a Buckinghamshire pub. The prime minister and president enjoyed some fish and chips and washed that down with a pint of IPA beer at The Plough at Cadsden. Cameron even joked about the time he left his daughter, Nancy, in the pub in 2012.
But Jinping has come under criticism for his country's human rights record during his visit to the UK. Amnesty International UK and Chinese dissidents staged a demonstration by The Mall as the president travelled from Buckingham Palace.
"Our main concern is that our prime minister talks to the president of China about human rights and our worry is that it is not happening," Kate Allen, the director of Amnesty International UK, told IBTimes UK. "We want to make it clear to David Cameron that we expect human rights to be on agenda."
The Communist Party leader was also challenged by BBC's new political editor Laura Kuenssberg during a press conference at Number 10. "We combine the universal value of human rights with China's reality and we have found a part of human rights development suited to China's national conditions," Jinping replied.