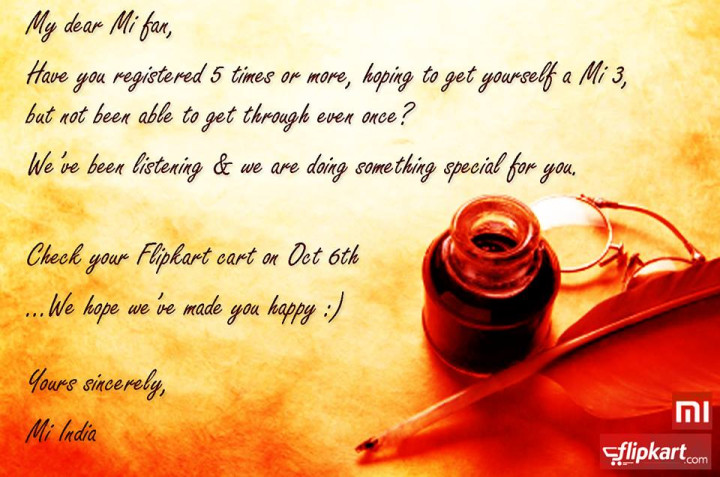 Good news for those want to purchase Chinese smartphone brand Xiaomi's high-end offering, the Mi 3.
The company has announced additional 'supplementary' Mi 3 smartphone units will go on sale via Indian e-commerce giant Flipkart, and that these supplementary stocks are targeted at people who were earlier unsuccessful in laying their hands on the Rs 14,000 (£143, $227) priced Mi 3 smartphone.
People fretting about not being able to buy the Xiaomi Mi 3 in earlier flash sales despite registering multiple times, now have a golden opportunity to buy the device.
Xiaomi will offer 25,000 Mi 3 smartphones, and these 'additional' devices will be targeted exclusively at those who have registered multiple times (at least 5 times, or more) and have failed to purchase an Mi 3 due to stocks running out in record time.
This 'supplementary sale' will be held on 6 October online on Flipkart. People having registered multiple times earlier should see an Mi 3 automatically added to their cart come 6 October 2014.
"As a tribute to our loyal Mi fans, this time it will be made available to those who've tried real hard, but have not succeeded. We hope we'll cheer you up!", states Xiaomi, in its official Mi India Facebook page.
Xiaomi festive bonanza!
The Chinese company's latest offer comes on the heels of an earlier announcement in which Xiaomi stated that it will be offering a whopping 100,000 units of both the Mi 3 and the affordable Redmi 1S during the Indian festive season of Diwali.
Also, Xiaomi's sixth flash sale of its Rs 6,000 (£60, $100) Redmi 1S begins on 14 October via Flipkart. Registrations to participate in this flash sale are now open. Click here to register now.