Yanis Varoufakis 'middle finger' video sends Greece-Germany relations to fresh low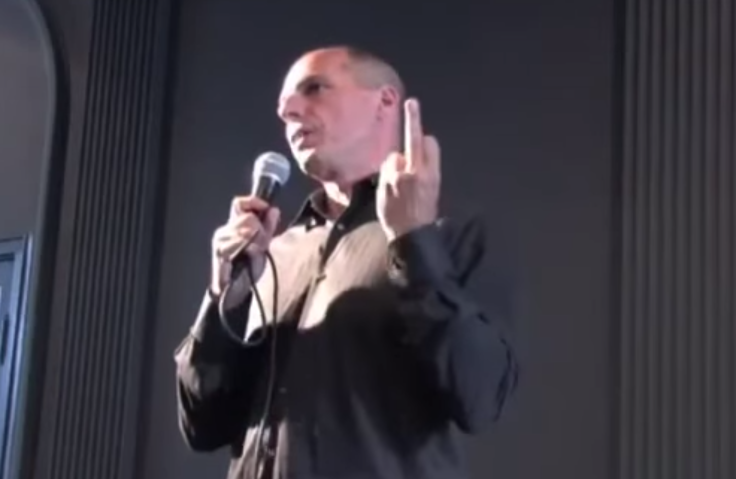 Greek Finance Minister Yanis Varoufakis was forced to deny "giving the finger" to Germany in a video widely circulated on YouTube.
In the video, Varoufakis is shown criticising the government in Athens for accepting the austerity conditions attached to the European Union financial bailout.
The video was filmed at a Zagreb conference in May 2013 and shows Varoufakis addressing an audience in English.
"Greece should simply announce that it is defaulting, just like Argentina did, within the euro in January 2010, and stick the finger to Germany and say 'well now you can solve this problem by yourself.'"
Confronted with the footage while appearing live on a German political discussion show, Varoufakis denied that he had given the finger to Germany.
The TV show's host Günther Jauch confronted Varoufakis with the footage, before asking "The middle finger for Germany, Mr Minister? The Germans pay the most, and are criticised the most for it. How does that go together?"
Varoufakis claimed the video was doctored and that he had "never given the finger ever".
"The video was faked, without doubt," Varoufakis later told German newspaper Der Spiegel online.
The Greek finance minister has regularly sparred with his German counterpart Wolfgang Schaeuble since the hard-left Syriza party won power in Athens in January.
Athens has also called on Germany to pay wartime reparations for the Nazi occupation of Greece, something that Berlin has flat-out rejected.
© Copyright IBTimes 2023. All rights reserved.