Ntombi had fled her violent ex-husband in South Africa when she arrived in England in 2004 to stay with people who turned out to be little better. After months of abuse at a house in south London, she ran away again, making her way to the city's centre, where she bedded down with a group of rough sleepers under Waterloo Bridge.
There she huddled with Afghanis and Ukrainians on cardboard boxes, warming themselves above a vent that blew hot air from below the ground. In the mornings, the women would go their separate ways to beg or find food, but Ntombi went instead to find work. A singer and dancer by trade, she wanted to make a better life for herself and escape the cycle of poverty and abuse that she had faced since her early teens.
"Danger was part of my life. I lived a dangerous life at home, and abuse was nothing new to me. Every morning everybody would go out to find food but I was too embarrassed to do that. I wanted opportunity to do my gigs maintain myself. I came to England to better myself. I didn't come to a strange country to go and queue for meals every day and then sleep. I needed something positive," Ntombi said.
Ntombi met a group of musicians at Battersea Arts Centre in south London that introduced her to a percussionist, Si, whom she arranged to visit at his home nearby. She quickly realised that Si was an ageing alcoholic who was sleeping on the floor in his derelict council flat. She asked his children if she could move in and, in return, do the apartment up and ensure that their father got the medical help he needed.
She cared for Si until his death, at which point she applied to the council to take on his flat. They needed photographic ID, which Ntombi didn't have, so she acquired a false South African passport through a friend and used it. It was a dilemma, but she was determined that she could not go back to sleeping rough: "I couldn't go back to Waterloo. I needed to do what I had to do to survive," she said.
Then last April, Ntombi woke to hear banging on the front door. Eight uniformed immigration officials burst into her house flanked by four armed police officers who, she said, "looked like they were coming for Osama bin Laden." She was arrested and taken to a stinking, tomb-like cell at a Brixton police station where she spent two days before being transported to Camberwell Magistrate's Court and charged.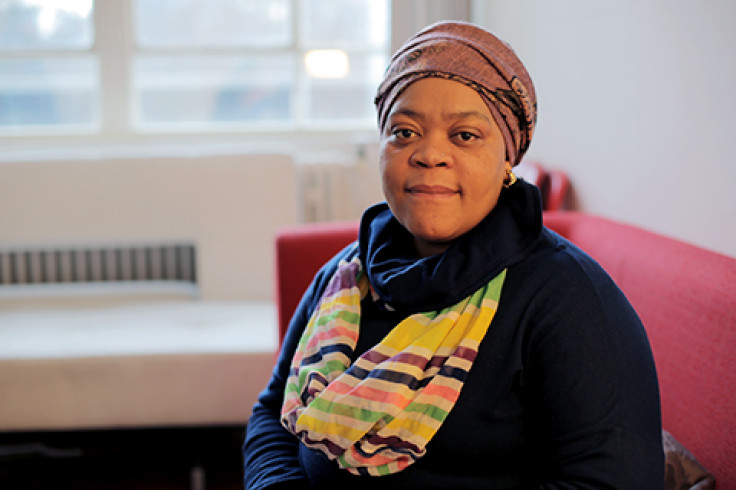 "When I was in the hands of immigration, I saw a part of England that was hidden from me. I never even thought it existed. In the police station, people were banging and banging the whole night. In court people were crazy, banging the doors. Then the whole day there, hungry, needing to shower – I felt like I was back in Waterloo. No bathroom, no food – nothing," she said.
Serco hits back at abuse, hand-cuffing claims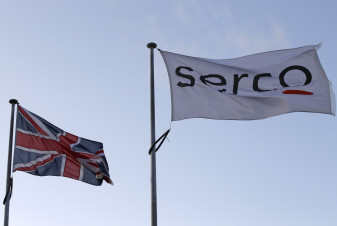 Serco has denied claims that women at Yarl's Wood are routinely handcuffed, that food is poor quality and that internet use is restricted.
In a statement to IBTimesUK, as we publish a two-part series on 8 February on the detention centre near Bedford in the UK, a spokesman hit back at a number of allegations made by inmates and former detainees. He said that inmates have only been handcuffed on two occasions over the past 12 months.
"The only occasion on which they may have handcuffs applied is if a detainee becomes violent towards staff or presents a risk of danger to themselves and others. Handcuffs are very rarely used at Yarl's Wood," he said.
Complaints procedure
He also said that procedures for detainees to complain about their treatment were "completely independent" and if of a serious nature would be referred to the police. He added that six members of staff had been disciplined for alleged verbal or physical abuse of detainees in the last 12 months.
As for claims that internet use is curtailed, the spokesman said that restrictions were "minimal" but that detainees were not permitted to access Facebook or Twitter as well as sexually inappropriate or extremist websites. They are permitted to use personal email accounts, he said.
If things were bad then, they were about to get worse: after her hearing, Ntombi was taken to Holloway Prison in north London, where she would be kept on remand for two weeks. She described Holloway as a harsh, violent wake-up call where prisoners would attack each other for cigarettes and illegal immigrants were held alongside violent offenders.
"Some [people there] don't have teeth and they want to break yours. You can't close your eyes or you might lose your life. I have never had to protect myself from death like that in my entire life," she said.
But at the same time Ntombi noticed that the presence of British prisoners at Holloway at least meant that there was decent healthcare and regular visits by organisations that do outreach work with inmates.
There was one other notable difference between Holloway and the immigration detention centres that she would soon find herself incarcerated in: at least in prison, you know when you are going to get out.
A 20-minute drive from Bedford, Bedfordshire in the centre of an old industrial park, Yarl's Wood currently holds around 350 female detainees at various stages of the immigration process – some due to be deported imminently and others currently awaiting a decision on asylum applications.
In 2015, a report by the UK prison watchdog claimed that the centre was "a place of national concern", with women claiming that conditions were dire and that they felt unsafe.
As a result, the private contractor that runs the centre for the Home Office, Serco, commissioned an independent enquiry into the conditions at Yarl's Wood. Released on 15 January 2016, the report criticised staffing, training and a shortage of female officers but did not find evidence of an "endemic culture of abuse". Serco responded by promising new training for staff, better food and body cameras for all frontline staff to prevent abuse.
The affair has highlighted not only Britain's policy towards asylum seekers – it is the only EU country with no limit on how long asylum seekers can be held – but the use of private contractors when outsourcing sectors that would usually be carried out by the state. Critics argue that private companies are not subject to same kind of scrutiny as governments and can be more opaque about their treatment of detainees.
Ntombi spent three months as an inmate at Yarl's Wood, from October to December 2015, after her release from Holloway. Like many of the women in the centre, she was due to be deported.
"My first impression of Yarl's Wood was that it was cleaner than Holloway. There were drinks and sandwiches at the reception. I was like: 'OK, we are not in prison any more.' But once you go inside you realise you are in the same situation. Being South African, I have seen apartheid. I saw it again in Yarl's Wood," she said. She complained of being handcuffed and roughly treated by guards as well as about the quality of food and lack of medical care, but generally it was the denial of freedom that Ntombi resented.
She said that there was lack of accountability at Yarl's Wood, that internet activity was restricted and that outreach workers were only allowed access to the visitor's centre, meaning that they could not see the conditions inside.
"I felt like I was a victim again. Being who I am, being a woman, I was a victim to these Serco police who had been given the right to do anything that they want to do to me, and nobody is going to do or say anything. To me there was nothing new: a man was there to dictate how I live my life. And how I breathe. Yarl's Wood behaved like my abuser. I didn't see any difference," she said.
She has since been released from Yarl's Wood with the help of charities such as Women for Refugee Women, a London-based organisation that does outreach work with female asylum seekers and refugees, but her asylum claim is still in process and she fears being sent back if it is not successful: "I never even dream of going to that place. If I had to choose to go to Yarl's Wood or to die, I would rather die. It is as simple as that," she said.
But it is her treatment by England as an asylum seeker that breaks Ntombi's heart. She has seen how the system treats frightened, desperate women as criminals. She has forged bonds with women inside the centre that have made them like sisters. When she recalls the way they were treated, it makes her heart beat fast in her chest. As a South African, she cannot reconcile the Britain where millions supported Nelson Mandela with the one she has seen.
"This is not supposed to exist in England.It was so disappointing and confusing. It was overwhelming really. It didn't feel real. We deserve better than this. It is time for it to come out," she said.
This is the second in a two-part series on Yarl's Wood detention centre published by IBTimesUK on 8 February. Part One is here.