A deadly explosion set off by a car bomb in Yemeni capital Sanaa has killed at least 38 people and injured 50 others.
The suicide attack took place in front of a police academy in the Yemeni capital.
According to officials, a suicide bomber drove a minibus full of passengers and rammed into the people waiting outside the police academy to enrol themselves in the security forces.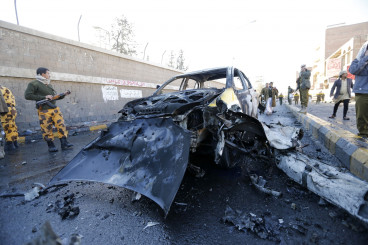 "What happened is we were all gathering and ... (the bomber) exploded right next to all of the police college classmates. It went off among all of them, and they flew through the air," an eyewitness named Jamil al-Khaleedi told the Associated Press.
Bodies and badly-damaged vehicles were lying scattered on the streets following the detonation.
Though no one has claimed responsibility for the attack, it bears the hallmarks of Al-Qaeda in the Arabian Peninsula (AQAP).
The blast was heard across the area as a large plume of smoke engulfed the area surrounding the academy.
Yemen has been witnessing constant unrest since the removal of deposed president Ali Abdullah Saleh in 2011.