Yemen conflict: Saudi Arabia-led coalition accused of war crimes by Amnesty
Amnesty International has accused members of the Saudi-led coalition of committing war crimes by bombing civilians in the conflict in Yemen. Some 13 airstrikes carried out by coalition forces in the Sa'ada governorate between May and July killed about 100 civilians, including 55 children, the rights group said.
It said that it was alarmed by the "appalling disregard" for civilian lives displayed by coalition forces, and called on the US and UK to suspend sales of weapons to their ally Saudi Arabia. "In at least four of the airstrikes... homes attacked were struck more than once, suggesting that they had been the intended targets despite no evidence they were being used for military purposes," the group observed.
Saudi Arabia has been leading a coalition of nine Arab states in a bombing campaign against Houthi forces loyal to former Yemeni president Ali Abdullah Saleh since March. Nearly 5,000 people have been killed by the fighting and around 1.4 million have been forced to flee their homes, according to the UN.
Forgotten war
Donatella Rovera, the head of Amnesty's fact-finding mission to Yemen, said: "This report uncovers yet more evidence of unlawful airstrikes carried out by the Saudi Arabia-led coalition, some of which amounts to war crimes.
"The designation of large, heavily populated areas as military targets and the repeated targeting of civilian homes are telling examples revealing the coalition forces' flagrant failure to take sufficient precautions to avoid civilian loss of life as required by international humanitarian law."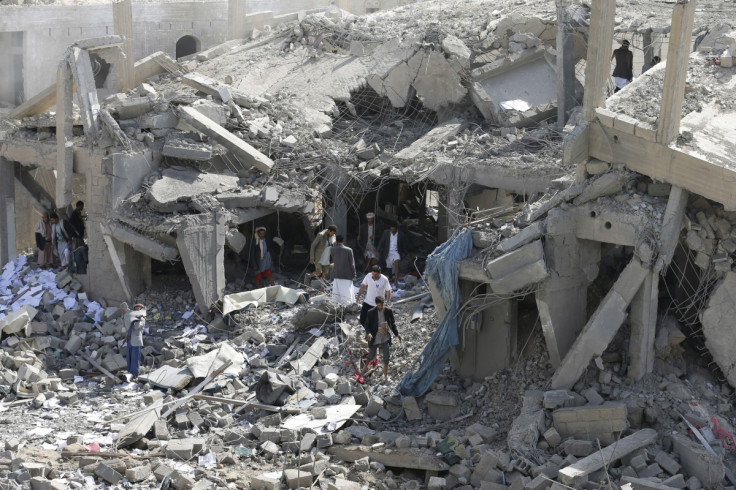 Amnesty urged the US and UK to halt sales of weapons to Saudi Arabia, arguing that they were facilitating "serious violations" of international humanitarian law. Riyadh is the largest importer of weapons from the UK – nearly half of all British arms exports went to the ultra-conservative monarchy between 2009 and 2013, according to Amnesty's estimate.
Rovera added: "The world's indifference to the suffering of Yemeni civilians in this conflict is shocking. Lack of accountability has contributed to the worsening crisis and unless perpetrators believe they will be brought to justice for their crimes, civilians will continue to suffer the consequences." On 6 October, the Houthi rebels agreed to a seven-point UN peace plan aimed at ending the conflict.
© Copyright IBTimes 2023. All rights reserved.