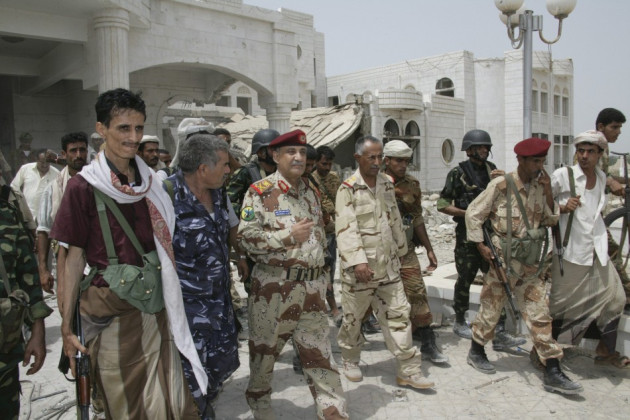 The chief of Yemen's southern military region has been killed in a suicide attack in Aden, officials have said.
Al-Qaida claimed responsibility for the attack, in retaliation for the US-led army offensive against it. Al-Qaida has a stronghold in the southern province of Abyan.
"One of our jihadists succeeded in assassinating Major General Salim Ali Qoton who had led a month-long offensive against our families and strongholds in Abyan," an unnamed al-Qaida spokesman told China's Xinhua news agency.
"We were forced to flee our cities. We have not lost the war or [been] defeated. Our war against crusaders will continue till we take full revenge."
The attack on came as al-Qaida left its last bastion in Yemen's provinces after the military's effort aimed at destroying the jihadist network.
According to a report on the defence ministry website, a military official said the bomber, a "Somali national threw himself on [Qoton's] vehicle and then detonated his explosives" as the general drove through Aden's Mansura neighbourhood, AFP reported.
Qoton led the offensive that forced the militant group to pull out from Azzan in Shabwa province, the last town in Yemen where al-Qaeda had complete control.
"The jihadists handed over the city to a committee of tribal mediators," Yaslam Bajanoub, member of the tribal committee, said.
Al-Qaida has retreated from the three main strongholds in Abyan, including the capital Zinjibar and the towns of Jaar and Shuqra.
Ali Mansur, a senior army commander and close aide to Qoton, described the general's death as "a huge loss for Yemen and its efforts to fight al-Qaeda."
"In just three months, Qoton achieved major progress towards chasing down and eliminating" the militants from their strongholds, said Mansur.
A total of 567 people have already died in the campaign - 429 al-Qaeda militants, 78 soldiers, 26 militiamen and 34 civilians - according to AFP.