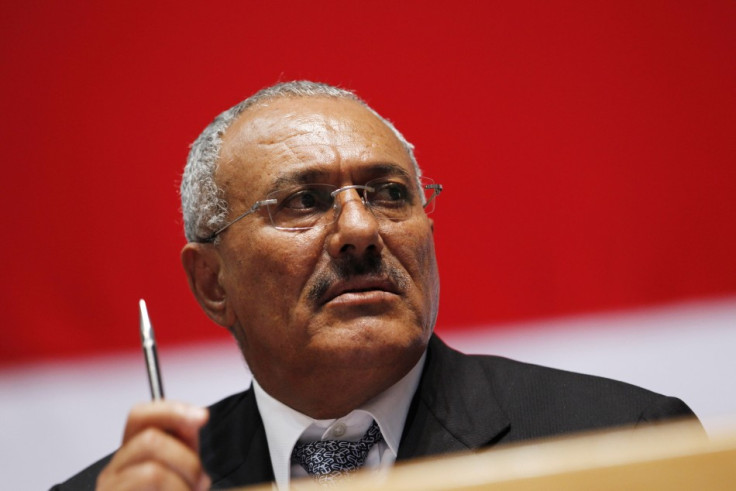 Yemeni President Ali Abdullah Saleh said Tuesday that he will step down within 90 days of an agreement with the regional Gulf Cooperation Council.
Saleh, who has so far dismissed the deal pushed forward by the six-member GCC in April, which would have forced him to leave immediately, told the France24 news channel that he had given his deputy Abd-Rabbu Mansour Hadi authority to negotiate a deal with the opposition.
"When an agreement on the Gulf initiative is reached, and when it is signed, and (it is agreed) on the operational mechanism and when elections are held, the president will leave," Saleh said.
Asked if there was a time frame for his departure, he said: "It is defined. It is within 90 days" of an agreement.
"I have 33 years of experience in power and I know the difficulties. I know the negatives and positives. The one who clings to power is mad," he said.
Despite months of protests, Saleh, 60, had remained defiant, reneging on repeated pledges to quit. In October he said he would resign within days.
The president's latest announcement had received a cautious welcome from anti-regime activists as doubts over the veracity of his comments rapidly emerged and were confirmed by Deputy Information Minister Abdu al-Janadi, who told Reuters that the president's departure still depended on reaching an agreement, which had yet to be signed.
Yemen, a state of 23 million people, is now facing water and fuel shortages, an imploding economy, separatist and sectarian conflicts and a continued threat from its domestic al-Qaida wing.
Saleh, who came to power in 1978, is under pressure from all sides to hand over power, but the U.S. and Sausio Arabia have warned that a sudden departure could lead the country to collapse, providing al-Qaida with more political space.
In the last few months, the president has given confusing signals about his intentions and pulled back three times from signing a Gulf Arab peace initiative that would have seen him form an opposition-led Cabinet and hand power to his deputy while preparing for early parliamentary and presidential elections.
He survived an assassination attempt in June and fled to Riyadh for treatment, only flying back unannounced in September after more than three months out of the country.