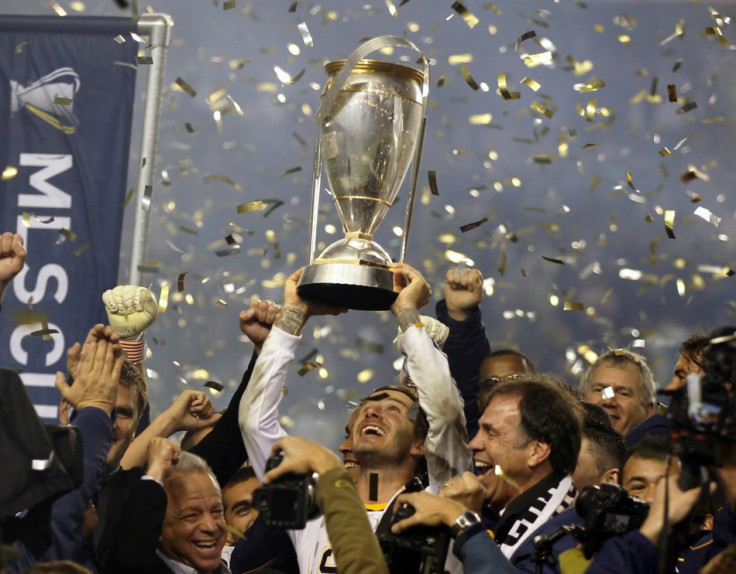 Manchester United legend David Beckham has held preliminary talks with Paris St-Germain, according to the Ligue 1 club's sporting director Leonardo.
The former Old Trafford winger, who recently suggested he could never play for another Premier League club because of his unwavering loyalty to Manchester United, has just helped the LA Galaxy win the MLS title and is out of contract at the end of next month.
Despite appearing to be nearing the end of his career and with a CV that already boasts six league titles, two FA Cups and the 1999 European Cup during his illustrious Manchester United career and also the 2007 La Liga title whilst at Real Madrid, England's most capped outfield player recently hinted he was in talks with "two big European clubs".
Leonardo coached Beckham during the midfielder's loan spell at the San Siro in 2010 and the former Brazilian international claims he has already held talks the midfielder over the prospect of one final swansong on the continent.
"Yes, we've spoken. These situations take time. We'll see if something suits him and suits us," Leonardo was quoted as saying in the Sun.
"I know his history and he doesn't need to tell me his past. He went to Milan and it was the same thing. There is a rapport with him. When you talk about Beckham, you're talking about something big. Now his contract is finished, he will decide his future."
PSG are currently bankrolled by Qatar Sports Investments and some have suggested their very public overtures for Beckham are a cynical marketing ploy designed to cash in on the former Manchester United star's obvious global appeal.
Leonardo, however, suggests Beckham could play a major part in helping PSG win their first Ligue 1 title since 1994. The former Inter Milan manager claims it is not in Beckham's nature to trade off his profile when he still has something to offer on the pitch, and instead believes it is a healthy reflection of how far the club has come since Qatar Sports Investments completed their takeover in June earlier this year.
"If Beckham thinks about coming, that's something we should be happy about," Leonardo said. I think he can still bring something on the pitch with the person he is and the experience he has.
"If a player like him is thinking about Paris St-Germain that's good, and we've opened the door for discussions. Everybody's talking about PSG and that pleases me. PSG are on the up, there are 45,000 people in the stadium and everyone's happy."