A 74-year-old woman in Ripon, North Yorkshire had a near miss on Wednesday (9 November) when she narrowly avoided falling into a 30ft sinkhole which appeared in her back garden.
Frances O'Neill, who lived in one of the seven houses evacuated after the sinkhole appeared, nearly fell in when she went to investigate the "tremendous noise" at around 10:30pm GMT.
O'Neill said: "I was just going down the steps into my garden and I put a foot down and then I realised the steps were moving, or had gone.
"I turned around and grabbed hold of a pole at the side and pulled myself back up and went quickly back into the house.
"I think luck was on my side," she added, according to Sky News.
Some of the residents from the seven evacuated homes spent the night on camp beds at the local fire station. Station manager Ben Cairns agreed with O'Neill's assessment. He said the consequences of the sinkhole could have been "far worse."
He said: "If it had been nearer the properties, we could have seen structural collapse or damage, bearing in mind this is a row of terraced houses, who knows what the extent of that could have gone."
Despite O'Neill's close call, it was neighbour Ben Bramley's garden that bore the brunt of the 15m x 15m sinkhole. The 43-year-old project manager said he was woken by his partner after hearing what "sounded like a land slip".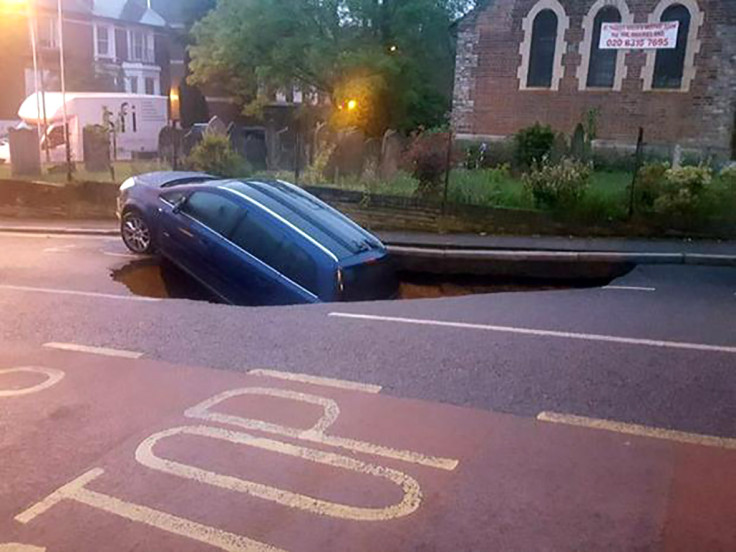 Bramley said: "It [the sinkhole] took out the entire back garden from 10ft from the back door to the garage. It has taken a big chunk of land."
Sinkholes in the local area, or in other parts of the world, are not uncommon, and a house just 300-400 metres away was demolished two years ago due to a previous sinkhole.
Natural sinkholes occur as acidic rainwater reaches soluble bedrock under surface soil, such as limestone or gypsum, in the case of Ripon, according to the British Geology Survey.
Over time that water dissolves the rock, causing cavities which will eventually collapse, funnelling in whatever lies above them.