'You made me a total dumbass': Student pens brutal letter to fifth grade teacher
The angry message has been retweeted over 33,000 times on Twitter.
An unamed student's letter to an unpopular fifth-grade teacher has gone viral due to its brutal assessment of their education methods.
Now, we've all had teachers we weren't quite so fond of when we were younger, but this pupil has really taken issue with the woman, identified only as Ms Leonie.
The letter was first shared on Twitter by@theayannashow, who wrote: "Y'all I'm screaming. To whom does this child belong?!" So far her post has attracted over 33,000 retweets and comments.
The letter starts off ominously by claiming "this is going to be the last time that I see you. I hope."
It doesn't take long for the contents to get more personal in tone: "Once upon a time I did like you but that was a long time ago. Matter of fact, a long time ago. Now I hate you and I mean every word. I was really smart when I came into 5th grade but you made me a total dumbass and you know it."
It transpires that Leone had forced the student to take summer school classes, which the student claims was purely down to personal reasons. Summer schools in the US are sometimes operated as remedial classes to help failing pupls.
Finally, he accuses the elementary educator of being [sic] "unintellegant, unprofesional, uneducated, special eduacted narsasits.]" Ouch.
Read the full two page letter for yourself: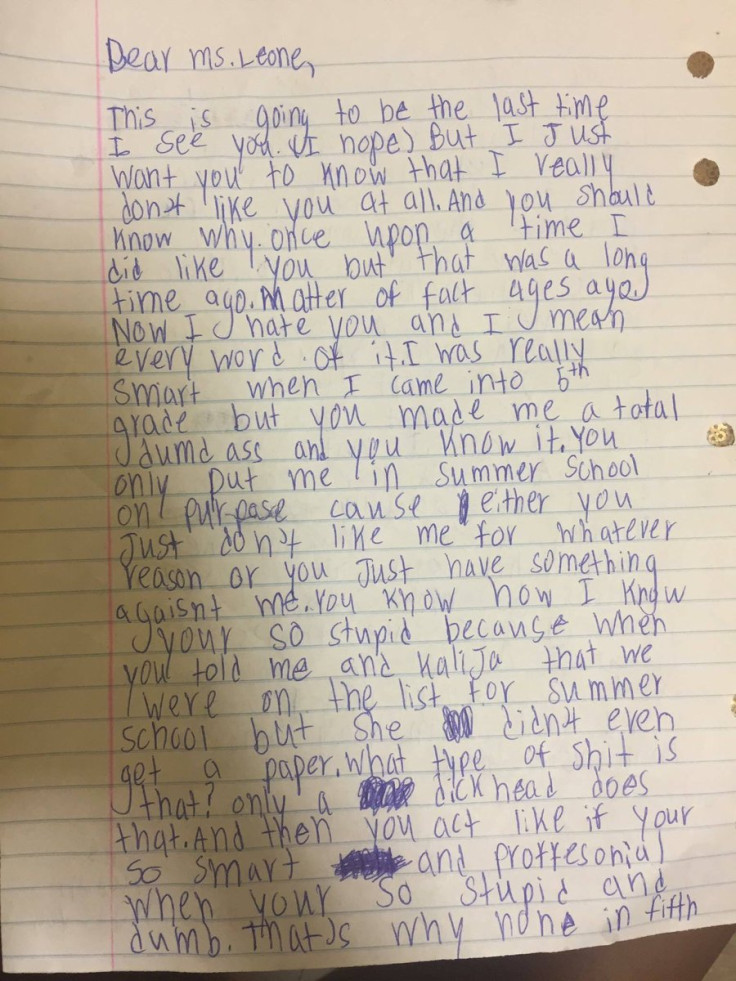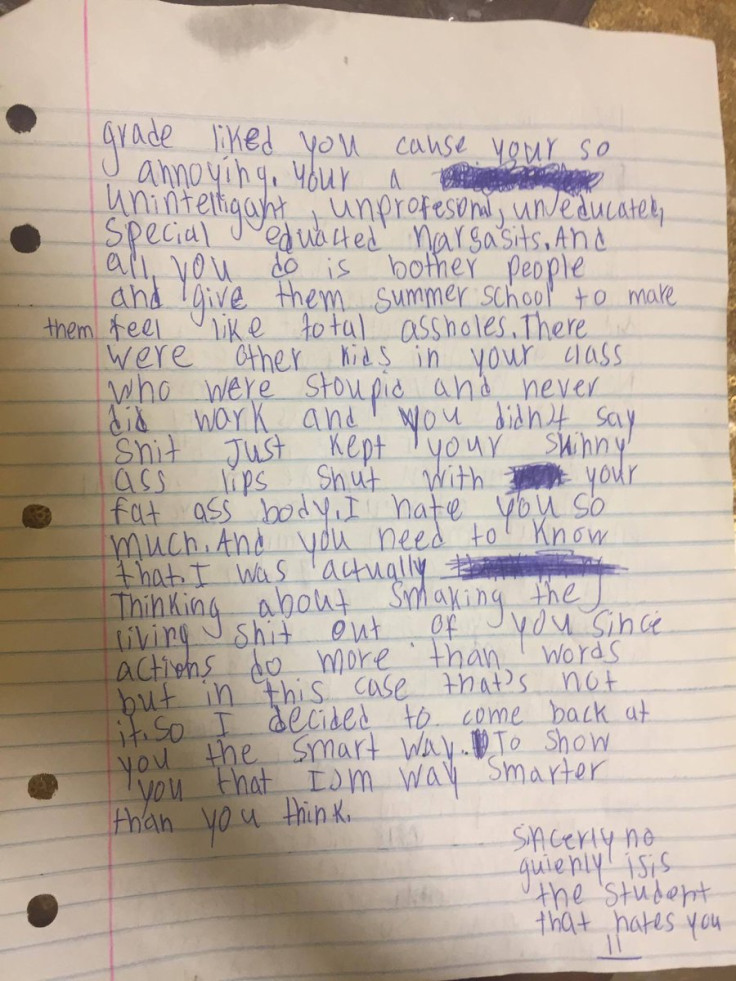 Last year, a fifth grade teacher from Atlanta received much more complimentary letter from one of his own students.
The teacher, known as Jermaine, shared the touching message from a student, named as Markus, to his Twitter account. He wrote: "So I walked in the classroom and found this letter on the desk that one of my kids wrote me and... I tried so hard not tear up."
The moving message read:
To Mr J,
Thank you for being a awesome teacher and for being amazing! This school year was so fun and I enjoyed it because of you. I wish more teachers was like you. I will never forget you. I look at you like my Dad. I never met my real Dad but it okay because you treat me like I'm your son. You make me so happy. Always feeding me when I am hungry and hug me when I am sad. I will never forget you Mr J. I love you and I will never forget about you!
Love Markus