Incoming changes to British law which will demand porn websites operating in the UK enforce age verification checks on users are "not trusted" by web users, a new study suggests.
From April, under the Digital Economy Act, websites such as PornHub or YouPorn could face fines of up to £250,000 if under-18s in the UK can access the streams. The changes were designed to protect children from potentially damaging material, the government says.
A system called AgeID, managed by PornHub parent company MindGeek, is likely to be a dominant player in the verification process.
Users will have to create an account and then prove their age via a third party service. Details will be taken from a legitimate passport, credit card or smartphone.
As a result, the company will be collecting users' names, addresses, dates of birth and recording online browsing activities. MindGeek recently told Sky News that it was expecting up to 25 million users from the UK to sign up.
But a fresh study released Tuesday (30 January) says that while majority of punters are in favour of age checks on porn sites, they are far from convinced their personal data will be safe.
Broadband Genie surveyed 2,103 web users aged 18 and over from across the UK between 14 December last year and 26 January 2018.
Worryingly, just 38% of respondents were aware of the verification changes.
In total, 48% said sites should verify age and a further 37% were in agreement depending on the verification method. But only 19% said they'd be comfortable sharing information directly with an adult site. A mere 11% said they would give details to a third party.
While MindGeek is keen to convince users that their personal data will be safe with AgeID, the consequences of major hacks and leaks – akin to dating site Ashley Madison – have taken their toll.
If such information were to leak online, it would be devastating for millions of citizens. Worse, the government's own research admits the procedure increases the likelihood of fraud.
Rob Hilborn, head of strategy at Broadband Genie, said: "The fraud issue surrounding this new system is very worrying. The advice has always been to only enter your data into legitimate, secure and trusting websites - something that came through in the findings from our survey.
"However, we've suddenly got a system that will require millions of users to hand over sensitive data to potential high risk sites or face being blocked.
"Addressing the issue of children viewing pornographic content is obviously an important one, but the proposed system to tackle this feels cack-handed and high-risk to the public."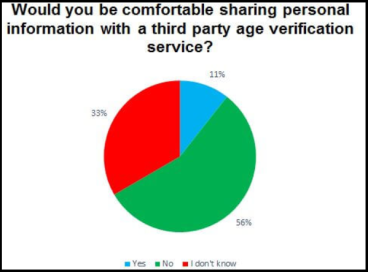 Vince Warrington, a former UK government cybersecurity expert, commented: "Not only are we looking at a system which, if breached, would allow the attacker to undertake identity theft, it also opens up the possibility of ransom demands too.
"It's well within the capabilities of most cybercriminal gangs to set up a means of extracting that information - whether that be by spoofing adult websites or creating false verification systems, or even by planting malware on vulnerable websites to get users to enter their data," he added.
According to Broadband Genie, the age-check system may drive children to file-sharing websites where they could be infected with malware. Others may simply turn to proxy services such as virtual private networks (VPNs) or Tor, a web browser, to access restricted content online.
Furthermore, gaps in the law are clear when it comes to addressing pornographic content on social media channels like Twitter, Reddit and Facebook. The planned system appears far from foolproof.