Former Labour voters have stopped supporting the party because of their dislike for Jeremy Corbyn, according to YouGov. The pollster surveyed more than 200 respondents between 2 and 10 August after around 1,000 members of the public told YouGov they would vote Labour earlier in 2016.
The biggest reason why voters had change their mind was because of Corbyn (29%), with Labour being in a "mess/shambles" coming second (18%) and a lack of confidence in the party coming third (12%).
But only 6% of respondents put new Prime Minister Theresa May as the main reason for their switch.
"Overall this would appear to justify the Labour rebel's claims that the leader is the cause of the problems – but there are important caveats to this," said Chris Curtis, a research executive for YouGov.
"Firstly, these categories above aren't mutually exclusive. Problems with Jeremy Corbyn's leadership might arise from news stories around party division and voters would probably be more supportive of the leader if there were more Labour MPs selling his case.
"The second caveat is that nearly half of these switchers haven't moved to another party but instead tell us they now don't know how they will vote. In previous election cycles we have found that many don't knows move back to their previous party as an election nears."
The research comes a day after the party began to send ballots to the 640,000 people eligible to vote in the Labour leadership election, including party members and affiliated supporters.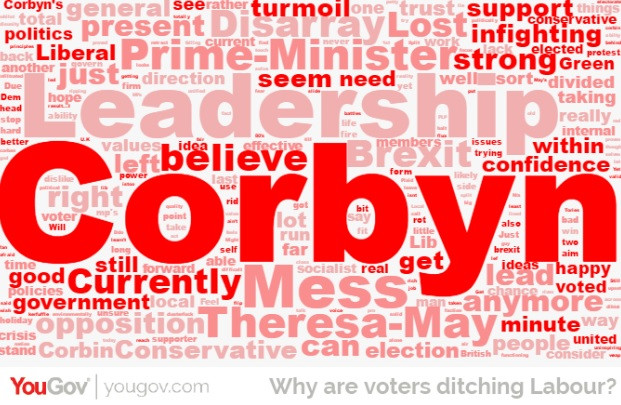 Corbyn, who won almost 60% of the vote in Labour's 2015 leadership contest, remains favourite to win the election. The veteran parliamentarian and Smith both promised to make reforms to Labour's internal democracy yesterday.
Smith pledged, among other things, to create a shadow cabinet of party members to advise the Labour leadership as well as the election of a "members cabinet" alongside the party's governing body, its National Executive Committee (NEC), to advise Smith and his team on "strategy and tactics".
Corbyn, meanwhile, committed to creating a so called "sovereign conference" and form a charter of rights for party members.