Police are investigating after a 22-year-old mum was killed by a vicious pack of dogs following an argument with her partner. Coroners have ruled that Rebecca Hardy, from Port Huron, Michigan, deliberately leapt into the yard containing the dogs and allowed herself to be mauled to death.
Ms Hardy, who had an 18-month-old daughter, was found in an enclosed yard near her home on Thursday 3 December. A witness tried to fight off the dogs and their owner came out and managed to get them off. Ms Hardy had severe injuries to her face and neck and was taken to hospital where she died.
"A pit bull began mauling the victim in the face and neck," said Captain Jeff Baker of Port Huron police. "A second dog, described as a husky, attacked the woman on the lower part of her body. The victim had severe facial and neck injuries as a result of the attack."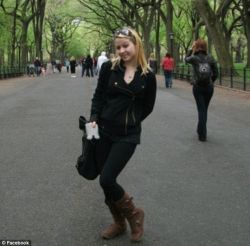 Hardy's partner Matt Grattan, who went to the scene after hearing ambulances, admitted the couple had argued, but couldn't explain how she got in the yard. He believes she was trying to take a shortcut.
"Nobody was there, nobody knows what happened and why," he told the local Times Herald. "I, in no way, shape or form, believe that she was looking to hurt herself on that day. She had a little girl ... She wanted us to be a family." A GoFundMe page has been set up in Ms Hardy's name.
Oakland County Medical Examiner's Officer declared Ms Hardy's death a suicide and noted she had made attempts on her own life before. "These were attack dogs. These were vicious dogs in an enclosed space," said Oakland County Medical Examiner Ljubisa Dragovic. "She obviously was aware of that, because she climbed over the fence to subject herself to this threat."
The dogs were taken to a nearby pound and quarantined after the incident. The dog's owner is cooperating fully with the investigation. 24 hours earlier a four-year-old boy, Xavier Strickland, was killed by pitbulls 55 miles away in Detroit when they crawled under a fence and snatched him as he walked to school with his mother. The owner of the dogs Geneke Lyons was charged with second-degree murder.
---
The Samaritans provides a free support service for those who need to talk to someone. It can be contacted through Samaritans.org or on 08457 90 90 90, 24 hours a day, 365 days a year. Call charges apply.