In-between the bustling streets of the Square Mile, and only a short stroll from St Paul's tube station, you will find a quintessentially English anachronism.
The Haberdashers' Company, one of the senior livery companies of the City of London, no longer inspects the quality of undergarments for coats of armour.
Apparently that sort of thing isn't in vogue these days. But the 566 year old organisation's commitment to education lives on as it hosted a preview of one of the UK's biggest careers events.
The Skills Show, which is due to take place at The NEC in Birmingham in November, offers the opportunity to young people to discover and try out different jobs.
Flanked by imposing portraits of Old Haberdashers and impressive silverware glowing in the afternoon sun, the main organiser of this year's event explained the idea behind the show.
"Young people want a different type of careers advice nowadays," Ross Maloney, chief executive of Find a Future said.
"Rather than relying on a classroom-based model, they are calling for experiential opportunities and the chance to hear about careers from the people who are recruiting – businesses."
Maloney also explained that employers could "engage with the talent of tomorrow".
With youth unemployment at a stubbornly high rate of 17.8% in the three months to May and business bodies like the manufacturers' organisation the EEF warning that the country faces a "skills shortage", the event seems like a win-win venture for employers and youngsters.
Attendees, including IBTimes UK, were given a sneak peak of what the show had has in store later that year.
A "have a go" jewellery workshop was manned by the London-based Holts Academy, lecturers from Middlesex University explained the ins and outs of environmental health – the somewhat graphic display even included a stuffed rat and mouse sidekick – and mobile robotics was also on display.
"Young people are the next generation of the national workforce. And if we want a successful economy we have to get behind them and enable them to see the opportunities and have a chance to develop skills," said Michael Osbaldeston, a senior adviser and partnership director at City & Guilds.
He added: "Every company in this country is dependent on skills of one sort or another."
The University Drop-Out Running an Events Firm
Idris Bhayat, who volunteered at the Skills Show in 2012 and took up the role as a team leader in 2013 at the event, has been a self-employed events manager and promoter for the last five years.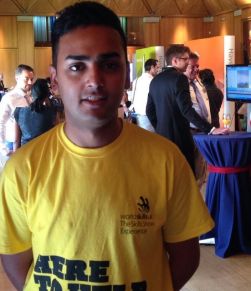 After dropping out of his degree in events management at the University of Birmingham half way through the course, the 21-year-old has gone from strength to strength.
"I didn't leave university because of the fees involved – it was more about the experience and networks I had built," Bhayat explained.
"For me, for the first year and a half at university, I was taught what I had already learnt by running my own company – I had created club nights, set-up family dinner and dances and worked with Asian music artists."
Despite leaving higher education when he was 20, Bhayat said his parents were very supportive of his decision.
But, why had he decided to volunteer at the Skills Show? Could he not be spending more time on his budding business?
The young entrepreneur said volunteering at the event has helped him build his contact book and nurture his volunteering skills.
Bhayat said two of his friends are also entrepreneurs and the group bounce ideas off each other to help their businesses.
"We're always thinking of new, different ventures to go into," Bhayat said.
Despite being inspired by TV shows such as Dragons' Den and The Apprentice, Bhayat said he found it hard to start off in reality in the events sector because of a lack of contacts.
"But you always have to take slow steps, and it's building network after network, and it's working at different events which has helped me get where I am today," Bhayat said.
The Apprentice Proving his Friends Wrong
Jonathan Taylor could have gone to university. He could have copied his friends. And he could have avoided being "looked down upon".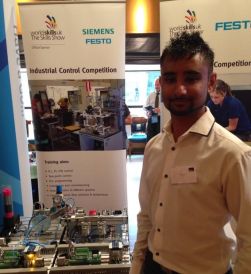 But the 20-year-old, despite securing a place on a computer science degree course, was bored of sitting in a classroom.
"I've found I prefer doing stuff and getting a bit more hands-on," he explained.
Now, after his neighbour told him about the opening, Taylor is an apprentice with German engineering giant Festo.
"I am currently going around the company into different departments learning about the firm," he said.
"At the end of the process I will speak with my manager and we will decide where I am best suited for the company."
When he first started at the firm, Taylor said he was "very much looked down upon" because he was doing an apprenticeship and not studying at university.
But that all changed as soon as Taylor explained to his friends that Festo would help fund him through a higher education qualification at Northampton University, where Taylor hopes to complete a Higher National Diploma.