The number of controversial zero-hours contracts "disturbingly" hit 1.8 million in August last year, according to official figures.
The Office for National Statistics (ONS) said that the number of flexible employment agreements had jumped from 1.4 million in January 2014.
But the research body explained that the latest results, taken from its business survey, should not be directly compared.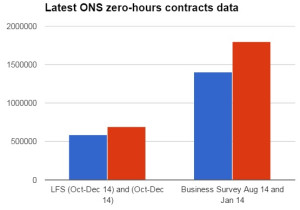 This is because the surveys and are from different times of the year (January and August) and may be affected by seasonal factors.
The new research also estimated that 11% of British business make some use of zero-hours contracts.
However, the ONS noted that the proportion of firms using the controversial employment agreements differ when industry or size of companies are taken into account.
John Philpott, a jobs economist, said the data was "disturbing" and warned that zero-hours contracts are becoming an "ingrained feature" of the UK's labour market.
"It looks as though zero-hours contracts are becoming a more ingrained feature of the UK's employment landscape, which is likely to buttress poor pay and working conditions in the lower reaches of the labour market," he said.
Failing families?
The ONS also published a separate study on zero-hours contracts based on its labour force survey.
The research, which questioned individuals and not businesses, found that the number of people on zero-hours contracts surged to 697,000 in the three months to December, up from 586,000 the year before.
But ONS warned that it was impossible to say how much of a true increase the hike was because of the greater recognition of zero-hours contracts.
Labour seized on the official figures and claimed the Tories' plan is "failing" working families.
"While they prioritise a few at the top, for others there's a rising tide of insecurity," said Chuka Umunna, the shadow business secretary.
"Ministers have watered down every person's rights at work and zero hours contracts have gone from being a niche concept to becoming the norm in parts of our economy."
But the Tories took to social media to hit back at Labour, citing a 1995 quote from former Labour leader Tony Blair.
"'There will be an end to zero-hours contracts.' Why you can't trust Labour to deliver on their promises," the Tory treasury Twitter account said.
The data comes with 70 days to go before the general election in May, with the Tories two points ahead of Labour (35% vs 32%) in the latest opinion poll from YouGov.