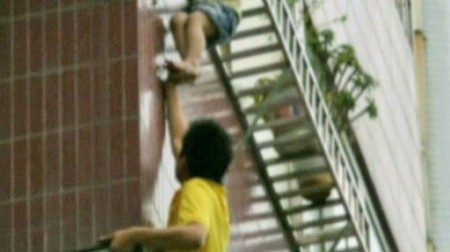 A Chinese man has been hailed as a hero across the world after footage was released of him saving a young girl from falling off a building in Guangzhou, Guangdong province, China.
In the video, Zhou Chong, 23, can be seen clinging to the side of the building, as he reaches out and props up the girl, who had her head stuck in the railings of the fourth floor balcony. Saving the four-year-old from a fatal 20 metre fall, he held her in place until rescue services arrived.
Speaking of the incident, which occurred on 3 June, Zhou said: "At that time, she might have been dangling up there for a few minutes already and a girl of three or four years old could not be that strong. She already had her head stuck in the railings and was already dangling there, so I thought that I could reach up my hand and let her stand on it, as she would have more strength with her feet, so then she would not be in danger."
Zhou, who is currently unemployed, was in Guangzhou, capital of the southern province, to look for work when he saw the child was in difficulty. Following his heroism, many businesses have expressed interest in hiring Zhou. He said: "I am good at electric welding. But no matter what job I do, I will do it well if I have the determination and confidence."
The girl's family praised Zhou's quick-thinking attitude and courage. The girl's mother said: "If you were the mother who encountered an accident like this, you would be very anxious. So we just thank him very much."
The girl had been left at home alone when her grandfather had gone shopping. She climbed out of the window before getting her head stuck in the railings along the side of the building, leaving her to dangle precariously over the edge.
Shocked residents spotted the toddler and began to spread a quilt and cartons along the ground to cushion her in case she fell.
When Zhou arrived on the scene, he gained access to the third floor of the building, directly underneath the girl's apartment, before risking his life by going out on to the ledge to hold the girl in place from below. He held her for 10 minutes until firefighters arrived to saw through the balcony railings and release the girl.
After the incident, Zhou quietly left the scene before the girl's grateful parents had an opportunity to thank him. Local media outlets and residents tracked him down and he has now finally received the recognition that he deserves.