Zimbabwe to give $1 for Z$35 quadrillion in exchange rate as nation phases out local currency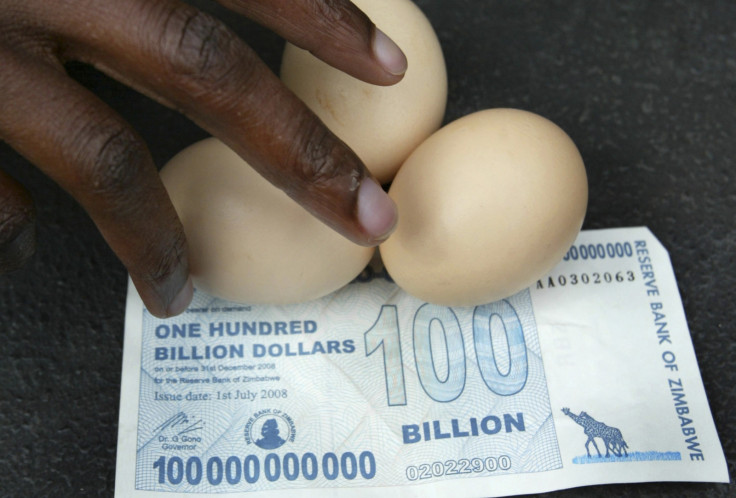 Zimbabwe is phasing out its hyperinflation hit local currency, offering an exchange rate of $1 (£0.65, €0.89) per Z$35 quadrillion.
The country has already been using US dollars and South African rand, as the use of local currency has become troublesome due to hyperinflation that hit the economy six years ago. At one point in 2008, hyperinflation reached 500,000,000,000%, making the local currency virtually worthless.
From 15 June, Zimbabweans may be able to exchange bank accounts of up to 175 quadrillion Zimbabwean dollars for US $5.
They have until September to turn in their old banknotes, according to a statement by the governor of the Reserve Bank of Zimbabwe, John Mangudya.
"The decommissioning of the Zimbabwean dollar has therefore been pending and long outstanding since 2009," Mangudya was quoted as saying by Bloomberg.
"We cannot have two legal currency systems. We need therefore to safeguard the integrity of the multiple-currency system or dollarization in Zimbabwe."
The central bank has set aside $30m to pay holders of its old currency notes.
The highest banknote denomination being used in the country is Z$100tn, which is enough to pay for a week's travel to work using a public bus.
During 2008, the people of Zimbabwe had to carry plastic bags tight-filled with bank notes to buy basic goods like bread and milk. Prices were rising at least twice a day during the period.
The economic crisis came after the government started a programme in 2000 to forcefully seize white-owned commercial farms to distribute to black subsistence growers, leading to a large fall in exports of tobacco and other crops.
Amid surging inflation and depleting local currency, the new coalition government started recognising foreign currencies as legal tender, leading to a fall in consumer prices by 2.7% annually in April.
© Copyright IBTimes 2023. All rights reserved.