A photo allegedly showing a woman picking up cake crumbs that fell from a table during Zimbabwe's President Robert Mugabe's lavish 92nd birthday party has caused a stir in the Southern African nation, where nearly a quarter of the population face the risk of starving to death.

Mugabe's ZANU-PF, which has been the ruling party since 1980, spent up to US$1m (£559,600) of taxpayer's money on the 27 February celebration, which included a huge cake weighing about 203 pounds (92kg). The festivities were held in the drought-stricken Masvingo province, which also proved particularly controversial.
The photo shows a woman wearing flip-flops and a simple t-shirt appearing to bend over to pick up crumbs off the floor next to the VIP table. Mugabe's supporters have claimed it does not prove she was actually helping herself to leftovers of the cake in the shape of Africa.
But observers say the picture highlights the stark inequalities and absurdity in a country where millions face hunger and starvation, and claim the money could have been used to assist vulnerable families in the region.
Indeed, 75% of the staple maize crop was destroyed by this year's El Nino-induced devastating drought, making it the worst drought since the early 1990s. The Zimbabwean government in February pleaded for $1.5bn (£1bn) in food aid to prevent the death of 1.5 million people, according to the World Food Programme.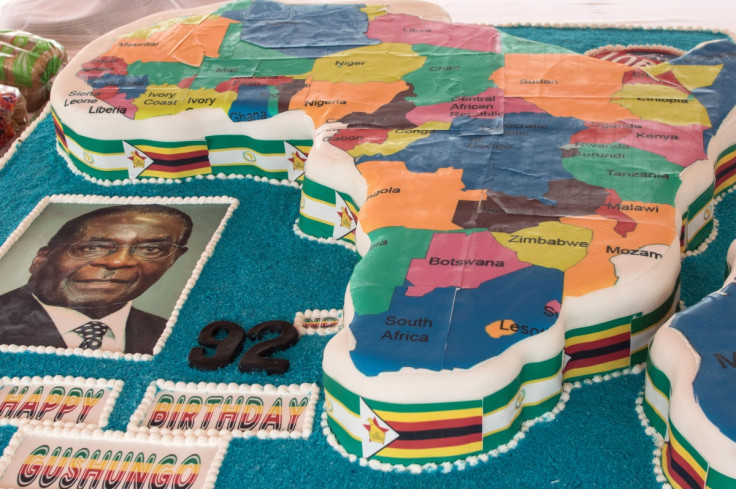 Conspicuous spending amidst drought and hunger
Obert Gutu, a spokesperson for the opposition Movement for Democratic Change (MDC), said: "The money that is being budgeted for this ill-conceived birthday bash should actually be used to import maize to avert the impending starvation in Masvingo province and other parts of the country".
In December 2015, one of Mugabe's deputies caused outrage among aid campaigners after reportedly spending US$250,000 (£165,000) on a stay in a five-star hotel, as more than two-thirds of his country's population continue to live below the poverty line.
Mugabe, who turned 92-years-old on 21 February, meanwhile, said he will continue "until God says 'come'", adding he has no intention of stepping down – despite being Africa's oldest leader and the only president Zimbabwe has known since it became independent in 1980.
He plans to contest the next election in 2018 aged 94, seeking his last five-year term under a new constitution that would see him through to 99.
In 2015, Global Finance Magazine placed Zimbabwe second-poorest after the Democratic Republic of Congo (DRC) in its survey of 184 countries. Based on IMF data, the survey showed Zimbabweans' average annual income between 2009 and 2013 was around $589 (£410). In contrast, South African's was more than $11,000 per year (£7.600).