Zimbabwean President Robert Mugabe, who turns 92-years-old on 21 February, has said he will continue "until God says 'come'". He has no intention of stepping down – despite being Africa's oldest leader and the only president Zimbabwe has known since it became independent in 1980. He plans to contest the next election in 2018 aged 94, seeking his last five-year term under a new constitution that would see him through to 99.
His wife Grace told Zanu-PF party supporters that he is the only one who can keep Zimbabwe "intact and peaceful", adding she would push him in a wheelbarrow to work if he was unable to walk.
Robert Gabriel Mugabe was born on 21 February 1924 in what was then Southern Rhodesia, a British colony. In the 1960s he fought against the white minority government of Ian Smith, and was held as a political prisoner for more than 10 years. When Zimbabwe won its independence in 1980, Mugabe became prime minister. In 1987, he assumed the office of President of Zimbabwe, giving himself additional powers in the process. He holds this position to this day. He has ruled with an iron fist, crushing all opposition. He has compared himself to Hitler and has been accused of having a racist attitude towards white people.
On Robert Mugabe's 92nd birthday, IBTimes UK looks back at his life in pictures.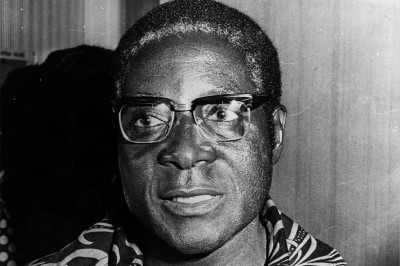 Many Zimbabweans follow his health with keen interest, especially after assertions by Wikileaks that he might have prostate cancer – which he denied. In 2015 he read out the wrong speech in parliament, which the opposition seized upon to question whether he was still of sound mind, though the president's spokesman blamed his aides.
In February 2015, the Zimbabwean government denied that President Robert Mugabe fell down the stairs at Harare International Airport. The incident was caught by press photographers, who were later forced to delete images of a tumbling Mugabe.
The incident caught the attention of several netizens who commented on Twitter and shared photoshopped images of the fall under the hashtag #Mugabefalls.
Mugabe's wife Grace is widely regarded as a potential successor, even though she says she has no such ambitions. At a recent rally, however, she said: "They go around saying Mrs Mugabe wants to lead. I am already in charge. "