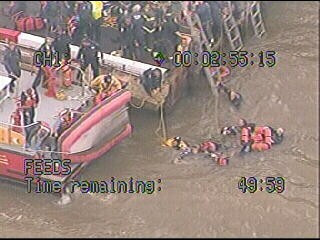 Click here for news coverage
A privately owned Bell 206 helicopter spun out of control over New York City Tuedday, and crashed into the East River off 34th Street, killing one British woman, authorities said.
The helicopter had a pilot and four passengers aboard, a British couple, the wife's daughter and the daughter's Australian female friend. The British daughter died at the scene but the rest were rescued.
Fox News reports that police divers recovered the woman's body an hour after the helicopter crashed; two women and the male passenger are said to be in critical condition at a new York City hospital.
Carlos Acevedo, of Puerto Rico, was with his wife at a nearby park area when they saw the helicopter go down, WRIC Richmond reports.
"It sank fast," he said. "In seconds. Like the water was sucking it in."
Lau Kamg was leaving a dentist's office and was walking nearby when he saw the chopper go down, and he said it appeared to be in distress.
"The sound got my attention," he said, as reported by WRIC. "I saw it splash."
The chopper, a Bell 206 Jet Ranger, is one of the world's most popular helicopter models and was first flown in January 1966. They are light and highly manoeuvrable, making them popular with television stations and air taxi companies.
Helicopter tours of the Manhattan skyline are popular with tourists, with dozens of flights per day in the summer months. Two years ago, a small plane collided with a helicopter over the Hudson River, killing nine people. A government safety panel found that an air traffic controller who was on a personal phone call had contributed to the accident, reports the Independent.