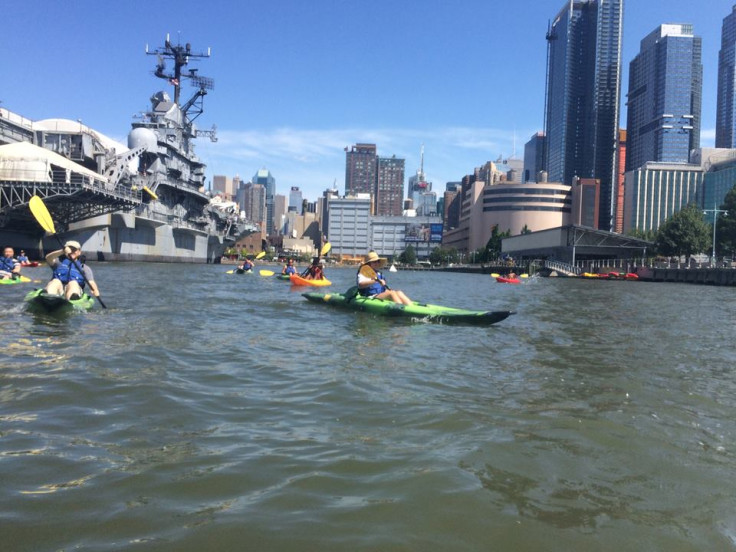 Ten kayakers were hit by a New York City commuter ferry as it left a Manhattan pier, hurting five people including a guide whose arm was seriously injured.
The collision occurred in the Hudson River on the west side of Manhattan as the ferry pulled out of a pier near 39th Street yesterday evening (30 August).
"The water taxi hit the kayaks and multiple people went into the water and were recovered," said Inspector David Driscoll, commanding officer of the New York Police Department's Harbor Unit.
The most seriously injured was a man found lying on top of one of the kayaks in a pool of blood with a deep gash to his arm that exposed the bone. He was drifting in and out of consciousness, officials said.
A Harbor Unit officer likely saved the man's life by applying "a tourniquet just below the shoulder, to stabilize the arm," Driscoll said. He also tended to less serious wounds on the man's leg, the Wall Street Journal reported.
The man and four others, who suffered only minor injuries, were taken to a nearby hospital.
All eight kayaks involved in the crash were part of a Hudson River tour run by the Manhattan Kayak Company. The injured man, who was listed in a critical condition, was a guide and "veteran kayaker" employed by the company, said a spokesman.
"We have done this hundreds of times," kayak company owner Eric Still told the New York Daily News, adding that groups usually take tours at the slack tide. "It's not a good day. We're just grateful that everyone is going to be OK."
All 451 people on the ferry were safe, said officials.
Police and the US Coast Guard are investigating the first-of-its-kind accident in the Hudson. Officials are determining who had the right of way and whether the setting sun affected visibility.
"Both parties are responsible to stay out of each other's way," said Driscoll.
The skipper of the ferry was being interviewed into the evening. There was no evidence of drug or alcohol use, said officials.