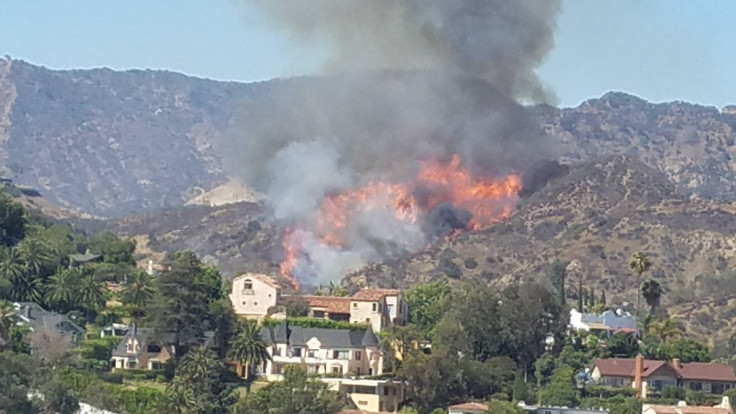 More than 200 firefighters battled for hours to vanquish an 18-acre brush fire in the heart of the Hollywood Hills in Los Angeles amid soaring temperatures and multi-million-dollar homes.
The fire was reported just after 3pm PST (11pm BST) on Tuesday (19 July), near the northbound lane of Highway 101 in Cahuenga Pass in an uninhabited area near the Hollywood Reservoir — but quickly spread.
It roared toward San Marcos Drive and a string of homes in one of the city's most exclusive neighborhoods. The massive plume of smoke from the blaze could be seen in central LA and as far away as Burbank.
Downed power lines in the area heightened the danger to firefighters and residents, who were under a voluntary evacuation order, a spokeswoman for the LA Fire Department told the Los Angeles Times.
Helicopters were scooping water from the reservoir to drop on the flames from above while LA city and country crews were using hoses and picks on the ground. Aerial video showed firefighters working in steep terrain that was already charred.
As of 6pm, the blaze was 50% contained. It was declared "out" soon after but firefighters were remaining "on scene throughout the night to ensure no flare-ups and protect the neighboring community from danger," said a fire department statement.
No homes were damaged and no injuries were reported.
The cause of the fire was under investigation.
"Thanks 2 all firefighters & all the means they used 2 snuff out the Cahuenga Pass East fire today! Huge relief we didn't need 2b evacuated!" tweeted one resident.