Alabama mother-of-two killed by fire ants, a day after her own mother dies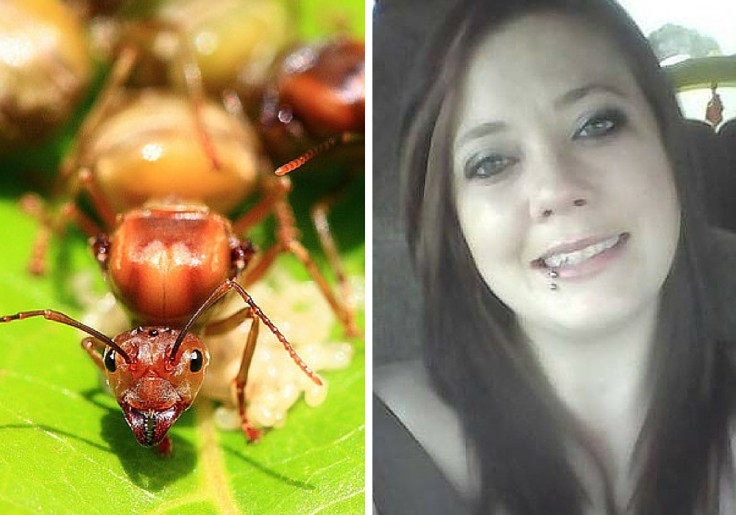 An Alabama woman has been killed by a swarm of fire ants as she prepared for her own mother's funeral. Kayln Rolan from Wetumpka, which is around 15 miles north of Montgomery, was apparently using her mobile phone to organise her mother's funeral whilst sitting on a haystack, when the fire ants came out of it and began attacking her.
The 29-year-old had lost her mother just the day before on 19 May, and had been visiting Selma where the incident happened. Her distraught family had to make arrangements for a double funeral, which took place on 27 May.
The mother of two went into an anaphylactic shock, causing her body to swell to the point where she could not breathe. Her husband attempted to save her life, ripping off her clothes and calling an ambulance, however the emergency services arrived too late to save her.
Kayln's family confirmed that she had a severe allergy to the venom released by fire ants. Kayln's mother-in-law, Sheila Alexander Rolan, has set up a GoFundMe page in order to raise money for the funeral. The page has currently raised $2,817 (£1,927) of the $5,000 (£3,419) target.
The victim's mother-in-law, Sheila Rolan said: "The ants just starting come out of the haystack. My son grabbed her, threw her to the floor. She died in my son's arms. I can only imagine what he's going through right now, you know, and then having to save her mother too. I wish I could do more for him, I wish I could take that load off of him."
She added: "Having to bury two people, even on both sides, trying to come up with money it's hard."
In Alabama in the last three years, there have been three deaths from yellow jacket wasps and one death from a snake, but no reported fire ant-related deaths.
There are two types of fire ant that live in the US - a native species and an invasive species - that have somehow migrated from overseas. In 2014, a devastating infestation of South American red fire ants were discovered in Sydney, Australia.
© Copyright IBTimes 2023. All rights reserved.