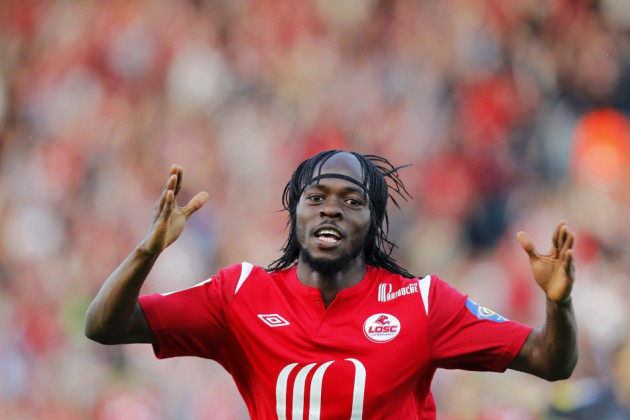 Arsenal have confirmed an agreement has been reached with Lille for the Cote d'Ivore forward Gervinho, subject to "a regulatory process".
The 24-year-old is expected to complete a transfer to the Emirates in the next few days.
A statement on the club's website said, "Arsenal Football Club announces that Ivory Coast international forward Gervinho will shortly join the Gunners, subject to a regulatory process."
The Ivorian scored 15 goals and was an integral part of Lille's Ligue 1 and Coupe de France double success last season. He has also represented his country on 27 occasions, including at the 2010 World Cup, scoring six times.
The announcement comes on the same day that Arsenal manager Arsene Wenger reiterated his belief that both Cesc Fabregas and Samir Nasri would remain at the club, despite continued speculation linking both players with moves away from the Emirates.
Speaking in Kuala Lumpur ahead of Arsenal's pre-season preparations, Wenger said, "Cesc loves the club and hopefully we will manage. We know that this story for Barcelona has gone on for years now, we have to close that and focus on the season, hopefully with Cesc Fabregas."
In regard to Nasri's future, Wenger added, "Will he be at the club next season? I say yes. The second part (of the question) - will he sign a new contract? I hope yes, but I am not the only one to decide."
No approach for Downing
Meanwhile, Aston Villa have confirmed that no official approach from Arsenal has been made for winger Stewart Downing.
Reports over the weekend suggested that the north London outfit were ready to table an £18m bid for the England international, despite on-going speculation linking the 26-year-old with a move to Liverpool.
But Villa manager Alex McLeish insists that Downing is not for sale with the club already rejecting one £15m bid from Merseyside this month. Sources today suggest the club are holding out for an improved £20m from Liverpool or Arsenal.
Bendtner and Almunia shown Emirates exit
Nicklas Bendtner is on the brink of ending his Arsenal career, with Borussia Dortmund and Sporting Lisbon interested in the £9m-rated striker.
Bendtner and goalkeeper Manuel Almunia were the notable absentees from the club's pre-season tour of Asia, as Arsene Wenger gave both players permission to look for other clubs.
Bendtner is believed to be in "advanced talks" with Dortmund and Lisbon over a permanent deal, while Almunia has been linked with a transfer to Malaga or Atletico Madrid.
End of the Mata
Finally, Valencia president Manual Llorente has confirmed that Arsenal target Juan Mata is "not for sale", according to reports in today's Daily Mail.
The £18m-rated attacking midfielder was an influential part the U-21 Spanish side that triumphed in the recent European Championships.
"We have no intention of selling and we have not received any formal offers for the player," Llorente told Superdeporte.
"The news that has appeared in the papers is nothing more than speculation - Juan Mata is not for sale."
"Our plan this summer is to make our squad better and our priority at the moment is to bring in a central defender," he said.